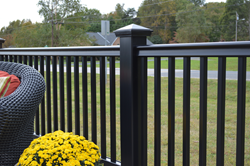 Symmetry Railing has a sturdy aluminum sub-rail and spanning capabilities up to 12 feet.
New London, N.C. (PRWEB) November 03, 2015
New Symmetry™ Railing from Fiberon® is here. The ideal blend of strength and style, Symmetry Railing features an elegant yet durable soft satin finish that resembles finely painted wood. Available in three outstanding colors (Tranquil White, Serene Black, and Simply Brown), Symmetry Railing has a sturdy aluminum sub-rail and spanning capabilities up to 12 feet. Plus, this exceptional railing is backed by a 25-year performance limited warranty and a 5-year labor warranty when installed by an eligible FiberPRO.
Symmetry's sculpted top rail adds classic appeal to any space, while the three color choices enable easy coordination with any deck or home. There are plenty of smart features to simplify and speed installation as well; among them:

Center-punched balusters for easier screw alignment
Side installation method for installing balusters
Pre-drilled holes for code-compliant baluster spacing
Pre-drilled bottom rail and top sub-rail (H-channel) for angled installations
Hidden, corrosion-resistant hardware for a cleaner look
Stair mounting brackets that work with 30°- 37° stair angles
Available kits (including hardware) in 6 ft., 8 ft., 10 ft., and 12 ft. lengths for both line and stair applications
"Symmetry Railing delivers solid construction and easy installation professional contractors will appreciate, as well as the color options, sturdiness, and long-term performance today's discerning homeowners expect," notes Fiberon Vice President of Marketing Shellie Sellards. "And Symmetry is backed by industry-leading warranty coverage as well," Today, there simply is no better choice in high-quality, low-maintenance railing than Symmetry Railing from Fiberon.
Fiberon composite decking and railing products are sold to professional contractors and property owners through a national and international network of distributors and retail outlets. To learn more, visit http://www.fiberondecking.com or call 800-573-8841.