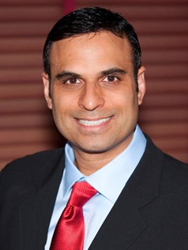 Oak Brook, IL (PRWEB) October 19, 2015
During National Dental Hygiene Month in October, Dr. Amarik Singh is advising patients who live with receding gums, to recognize the importance of protecting their oral health through professional treatment. As a periodontist in Oak Brook, IL, Dr. Singh often reminds patients that receding gums can be indicative of other oral health problems, which may cause complications if left unaddressed. To assist patients improve their smiles and overall health, Dr. Singh offers the Chao Pinhole® Surgical Technique, which is a new and minimally-invasive approach to gum recession treatment.
Treatment for receding gums offers numerous health benefits. Untreated gum recession may produce pockets between the gums and teeth, substantially increasing the risk of experiencing tooth decay, gum disease or other infections. Professional treatment from a periodontist in Oak Brook, IL, can help prevent all of these issues. Proper treatment is imperative, as receding gums can occur as an early symptom of gum disease, which may lead to tooth loss and bone density deterioration. Recession may also be a warning sign of other oral health problems, including bruxism and bite misalignment. Patients who seek treatment for recession promptly are more likely to have these underlying health issues diagnosed sooner and can treated accordingly.
Dr. Singh has joined the minority of periodontal professionals who offer the Chao Pinhole® Surgical Technique, as an alternative to gum grafting. This procedure allows Dr. Singh to work through a tiny pinhole incision, to reposition receding gum tissue in a more natural position. No grafts or sutures are necessary and patients benefit from a low risk of pain, bleeding and infections. The minimally invasive nature of this procedure allows Dr. Singh to correct recession affecting multiple teeth within a single appointment, minimizing the number of times that patients must visit a periodontist in Oak Brook, IL.
Unfortunately, the nature of gum recession is naturally irreversible and many side effects of gum disease, including bone damage and tooth loss, may also become permanent. Consequently, Dr. Singh advises patients to seek treatment for receding gums before these complications manifest. Patients who are ready to schedule consultations are encouraged to call Dr. Singh's office or visit his website.
About the Practice
Periodontal Implant Associates is a periodontal practice offering personalized dental care for patients in Chicago, IL. After graduating from Northwestern University Dental School, Dr. Amarik Singh went on to obtain his Specialty Certificate in Periodontics and earn his Master's from Northwestern University. Dr. Singh is deeply committed to continuing education and prides himself on remaining on the cutting-edge of the newest techniques and technology in dentistry. Dr. Singh is part of an elite group of dental professionals at the forefront of the Chao Pinhole® Surgical Technique (PST®), a revolutionary new approach to repairing gum recession. To learn more about the periodontal services available at Periodontal Implant Associates, please visit http://www.pidentists.com or call 630-233-9278.