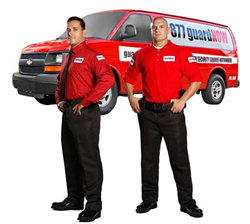 Los Angeles, CA (PRWEB) October 20, 2015
guardNOW® kept festival goers at the 2015 Los Angeles Korean Festival safe by providing a rotating staff of 35 guards to monitor parking lots, ensure order at refreshment tents, and manage entrances to multiple outdoor stages. In doing so, this rapidly-growing security company cultivated a long-term business relationship with the head of the L.A. Korean Festival Foundation and ingratiated itself to the Korean business community at large.
Part of what made guardNOW's performance so impressive to organizers was the challenge that this large festival presented. According to guardNOW manager Afsoun Rahnavard, the Korean festival is "One of the biggest security challenges the company has faced," adding that prior security companies "consistently failed to manage the large crowds, packed parking, and crowd-drawing performances." To overcome these challenges, guardNOW's top field supervisors worked with festival staff and community leaders to develop unique security procedures to manage the nearly 300,000 guests that attended the festival.
A week and a half after the closing of the event, the Assistant Director of the Los Angeles Korean Festival Foundation had this to say:
"Thank you so much for your services. I can't express how grateful and impressed we are with the guards. As we speak we have our social media specialist working on the yelp reviews for the firm. Tony, Robert, and Brian were the best guards I have ever seen and I am truly grateful to them. Working with the guards was actually fun this year because of they were so nice and respectful. Every single guard handled their post professionally and they were all really cool to work with."
Thanks to the success of this festival, guardNOW and the Los Angeles Korean community have developed a powerful bond. The festival foundation even said, "We will be using [guardNOW] again and again, there's no doubt in my mind our business friendship is forever sealed." guardNOW, too, is excited to provide exceptional event guard services in the years to come, and looks forward to new opportunities to serve the Korean community in Los Angeles.
guardNOW is one of the fastest growing providers of security guard services in the USA. Dedicated to simplifying the private security industry and providing guards to the often under-served temporary security market, this agency has already made significant steps towards its mission by streamlining its ordering procedures and building itself from the ground up to provide clients with transparency, convenience, and a quality of service that out-strips the competition.
For additional information about the company, visit http://www.guardnow.com or call at 877-guardNOW.
.