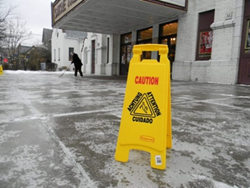 Within the context of other business expenses, ice melt is a relatively low-cost product that produces big benefits.
ADDISON, Ill. (PRWEB) October 20, 2015
B2B Industrial Packaging, one of the leading suppliers of ice melt for business, offers some tips for maximizing the effect and getting ahead of the winter season.
The company's President Bill Drake said, "Within the context of other business expenses, ice melt is a relatively low-cost product that produces big benefits. We have application advice that will save businesses both time and a little more money." Following are B2B Industrial Packaging's top eight tips:
1. Consider applying ice melt before the first snowflake falls: Ice melt works by separating the layer of ice from the concrete/asphalt surface. This especially smart when a weekend snowfall is expected and employees will be there early Monday morning.
2. If it has already snowed, remove the snow first: This accomplishes two things: 1)It may reduce the amount of ice that forms in the first place and 2)If a layer of ice has already formed under the snow, ice melt will be most effective if it's in direct contact with the ice.
3. No matter what equipment is used to apply it, be sure that the ice melt is applied in a thin even layer. Any surface damage caused by ice melt almost always occurs in areas where it has been applied too liberally. Also, for concrete that is less than 12 months old and still not fully cured, be sure to consult the paving contractor first before applying any type of ice melt.
4. Avoid greenery: This is another reason to clear snow first. Otherwise it's very difficult to see where the paved surface ends and the lawn begins.
5. Sand does not melt ice, it only aids traction. The other major downside is that it's difficult to get rid of in the spring.
6. Ice melt is necessary almost every time it snows. Even if there doesn't appear to be ice underneath, it's there. In fact, the most dangerous ice is in the form of isolated patches that pedestrians aren't expecting.
7. Ice melt won't harm most floors—even wood floors. Bigger problems are melted snow and gritty substitutes like sand.
8. Don't wait until the last minute to buy ice melt: Experts agree; the best time to buy it is sometime between when the first leaf falls and the first snowflake falls. Waiting until the last minute may mean not getting what is needed right away and paying more for it.
For Northern and Eastern areas of the U.S., the first snowfall is probably days away. For example, in Chicago, the first snowfall typically occurs around Oct. 30. Those in Northern Washington, Idaho, and Montana are already looking at an inch or two of accumulation.
Sodium chloride Halite is fine for most applications; high performance Proslicer, which also includes magnesium—is best for sensitive applications.
"Ice melt can prevent major problems," Drake added. "For most organizations, storage is not an issue. So it just makes sense to be prepared with a stockpile now while supplies are plentiful and prices are lower than they will be later in the season. Our account executives are experts in all areas of industrial packaging, including ice melt. They can recommend the best product for each client's circumstances and show them how to save money on their ice melt orders without sacrificing protection."
Servicing more than 6,000 active clients, B2B Industrial Packaging sells a full range of packaging equipment and supplies including ice melt, steel strapping, stretch film, and fasteners to clients primarily in the Central Great Lakes, the Central Plains, California, Texas, North Carolina, and Mexico. B2B Industrial Packaging is unique in that it also operates a state-of-the-art strapping and fastener tool repair facility that services the entire U.S. To find out more about B2B Industrial Packaging's ice melt, visit http://www.b2bind.com/products/icemelt/index.php, call 1-877-222-5747, and/or email Kim Calcagno at kcalcagno(at)b2bind.com.
###