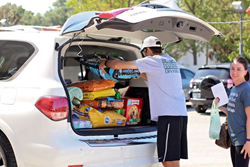 "My company was built on providing great service, and being of service to others through events like this is simply an extension of our mission." Joette White, President of Park Cities Pet Sitter
Dallas, TX (PRWEB) October 19, 2015
On Saturday, October 10th, 2015, Park Cities Pet Sitter filled a sparkling new 2016 Infiniti QX80 SUV with donated pet supplies for local Dallas non-profit dog rescue, Angie's Friends. Under the watchful eye of Baxter, a friendly Doberman Pinscher up for adoption through the rescue, Pet Supplies Plus shoppers donated bag after bag of food that will be distributed by the rescue to animals living in the economically depressed areas of Dallas.
Sewell Infiniti of Dallas donated use of the Infiniti QX80 for the day, while Park Cities Pet Sitter staff solicited donations from Pet Supplies Plus shoppers, and Angie's Friends volunteers showed off a number of the dogs available for adoption through their rescue. With the sun shining on the beautiful 80 degree Fall day, enthusiasm was high all around. "We are so excited to support Angie's Friends with this event," said Park Cities Pet Sitter President, Joette White. "Their volunteers couldn't believe how generous people were being with their donations. It really is heart-warming to see so many pet lovers willing to donate something, knowing that every bit will go to a pet in need."
Donations during the 5-hour event included 566 lbs of dry food, 366 cans of wet food, and over $600 in cash or gift cards. Treats, collars, leashes and flea/tick preventative medication were also part of the day's haul of donations.
Angie's Friends is named for the grassroots efforts of its founder, Angie Manriquez, who is affectionately known as "The Fairy Dogmother of Dallas." With the help of her supporters, Ms. Manriquez spends the majority of every day going house to house to feed, water, medicate, provide shelter for, and pat the heads of dogs that have extremely low quality of life, living on short chains in neglectful and abusive situations, never feeling wanted. Angie's Friends relies exclusively on donations to continue their work.
Park Cities Pet Sitter's "SUV Stuff" event kicked off their month-long pet supply drive, which is part of the National Association of Professional Pet Sitter's national Presents 4 Pets program. Donations for Angie's Friends will be accepted by Park Cities Pet Sitter through November 7th, and can be dropped off at their offices from 10am-4pm at 5831 McCommas Blvd, or can be picked up by a Park Cities Pet Sitter staff member during a regularly scheduled pet sitting visit.
"It is so important that Park Cities Pet Sitter continues to be involved in these kinds of community efforts," said White. "My company was built on providing great service, and being of service to others through events like this is simply an extension of our mission."
About Park Cities Pet Sitter: PCPSI has served the Dallas area 7 days a week, 365 days a year since 1992. Pet sitting, daily dog walks, pet taxis, overnight sitting, pet supply shopping, litter box cleaning and dog training are all part of the services PCPSI offers. Park Cities Pet Sitter is bonded and insured, and all sitters are employees--not independent contractors. A manager is on-call 24 hours a day to handle any emergencies. Additional information about Park Cities Pet Sitter can be found on their website at http://www.pcpsi.com.
About Angie's Friends: Angie's Friends is a 501(c)3 non-profit animal welfare organization established in 2008 for the sole purpose of aiding neglected and abused dogs in economically depressed neighborhoods of Dallas. Three of Angie Manriquez's friends formed "Angie's Friends" in 2008 to facilitate her critical efforts, work she has been doing since 1999 in many neighborhoods, often in dangerous West Dallas. To learn more about Angie's Friends, go to their website at http://www.angiesfriends.org.