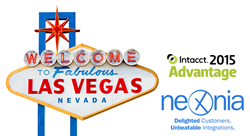 We've been offering the most complete expense report integration with Intacct since 2012...we're excited to show Intacct Advantage attendees what we can do for them!
Toronto, Ontario (PRWEB) October 21, 2015
Nexonia Inc, leading provider of web and mobile business financial management solutions, today announced their platinum sponsorship of Intacct Advantage, the world's largest conference devoted to Intacct customers and partner communities. Hosted at the Mirage Hotel and Casino in Las Vegas, November 9 – 13, the event marks the third consecutive year Nexonia has participated as a sponsor.
"We've been offering the most complete expense report integration with Intacct since 2012" said Neil Wainwright, CEO of Nexonia. "Today, we offer hundreds of Intacct integration settings for expense reporting, time-tracking, vacation-tracking, payroll, payables and other financial operational requirements. We're excited to show Intacct Advantage attendees what we can do for them!"
Last year's Intacct Advantage conference attracted a record number of attendees, reflecting Intacct's continued rapid pace of product innovation and outstanding growth. This year's event will include pre-conference training, breakout sessions and a Marketplace Expo. Nexonia will also be sponsoring Avalara's annual After Party event at The Mirage's Rhumbar on November 11, open to Intacct Advantage 2015 attendees.
On Wednesday, November 11 at 1:45pm, Nexonia's CEO will be joined onstage by Intacct partners and customers for a 60-minute session on "Outstanding Expense Reports, AP, PO, Timesheets & PTO Management Completely Integrated With Intacct." Showcasing Nexonia's multi-dimensional integration with Intacct, the session will also include a post-demo panel and Q&A session with Nexonia customers and partners.
The Nexonia team will provide live, in-person demonstrations of their Intacct product integrations at booth #509 at the Intacct Advantage Marketplace Expo November 11 and 12. Those who are unable to attend the conference can request a free, personalized demo with a Nexonia Product Education Specialist.
For more information and to register for Intacct Advantage 2015, visit: https://us.intacct.com/advantage
About Intacct:
Intacct is a leading provider of best-in-class cloud ERP software. Bringing cloud computing to finance and accounting, Intacct's award-winning applications are the preferred financial applications for AICPA business solutions. In use by more than 9,000 organizations from startups to public companies, Intacct is designed to improve company performance and make finance more productive. Hundreds of leading CPA firms and Value Added Resellers also offer Intacct to their clients. The Intacct system includes accounting, cash management, purchasing, vendor management, financial consolidation, revenue recognition, project accounting, fund accounting, inventory management, and financial reporting applications, all delivered over the Internet via cloud computing.
About Nexonia:
Nexonia Inc. is a provider of leading web and mobile expense, time and other business financial management solutions, including: Nexonia Expenses, Nexonia Timesheets, Nexonia Time Off, Nexonia Time Allocation, Nexonia Purchase Orders and Nexonia Accounts Payable. Nexonia's simple-to-use and highly customizable applications are fully integrated with ERPs, credit cards and other systems supporting a variety of businesses. Nexonia solutions are designed to streamline the reporting and approval process, improve human resource management and enhance operational efficiency.
To receive more information, visit http://www.nexonia.com or call 800-291-4829.