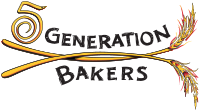 Our business growth has provided 5 Generation Bakers with a tremendous opportunity to purchase and transform the new space into a production facility that will allow us to bake 3x the volume of our current daily run. Scott Baker, Founder/President
Pittsburgh, PA (PRWEB) October 20, 2015
5 Generation Bakers, a family-owned and operated specialty bread bakery located in McKees Rocks, PA, is holding its official ground breaking on what was previously known as the Bottom Dollar location, 1100 Chartiers Avenue, on Tuesday, October 20. Since 2010, 5 Generation Bakers has carved a Northeast Regional footprint with distribution in 20 states and has outstripped its current capacity. The ground breaking marks a six-month construction and expansion project.
"Our business growth has provided 5 Generation Bakers with a tremendous opportunity to purchase and transform the new space into a production facility that will allow us to bake three times the volume of our current daily run," said Scott Baker, Founder/President, 5 Generation Bakers. "We will create greater efficiencies in all areas of operation from production to inventory and logistics."
5 Generation Bakers Expansion Plan includes:

Increased production space from 9,000 to 18,300 square ft.
Construction of a new 21-ft. tall, 2,000 square ft. freezer
Installing new equipment at the new facility
A 600-square ft. storefront with fresh produce and bakery items open to the community
Talent growth increase, from 37 to 97 employees over the next 12 – 18 months
5 Generation Bakers has worked closely with the McKees Rocks Community Development Corporation over the last year. "The community was loud and clear on two points: we need to keep 5 Generation Bakers in McKees Rocks and we need fresh foods and produce offered at this location," Taris Vrcek, Executive Director for the McKees Rocks CDC. "Through a diverse and innovative partnership, and the dedication of the Baker family, we have been able to achieve both," he continued.
The project has received economic development support from the PA Department of Economic Development, and SBA financed through Huntington Bank.
"Huntington and our team of business bankers are continually at the forefront of economic development in the Pittsburgh Region," said Sam Huston, Business Banking Area Manager for Huntington Bank. "We are proud to bring this expertise and the SBA financing to Scott and his team so that 5 Generation Bakers can continue their own tradition of growth, job development and expansion right here in our hometown."
"Many customers know the history as Jenny Lee Bakery," added Baker. "We want them to know that we always stand behind a quality product and we are here to stay. We will remain in the community that has served us well, providing a sound foundation for generations to come."
About 5 Generation Bakers
A desire to keep the baking tradition alive, 5 Generation Bakers was founded in June 2009. The Baker family history dates back to 1875, when the Michael A. Baker Bakery first opened, continuing with Jenny Lee Bakery opening in 1938 and again with 5 Generation Bakers operating today. After 140 years and five generations, the Baker family-owned and operated bakery legacy continues. Today, 5 Generation Bakers services the local market and sells through distribution channels to 20 states in the Northeast Region.