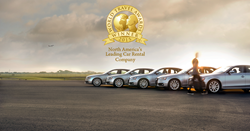 We're thrilled to be recognized for delivering a customer experience superior to anything else out there
Austin, TX (PRWEB) October 21, 2015
Silvercar is honored to announce its recent win as North America's "Leading Car Rental Company" at the 22nd Annual World Travel Awards™, which took place on Saturday, October 17th at Sandals Emerald Bay resort in the Bahamas.
Voted upon by consumers and top travel media, the annual World Travel Awards™, founded in 1993, serve to acknowledge, reward and celebrate excellence across all sectors of the global travel and tourism industry. Silvercar, which has been shaking up the car rental industry for the past two years, took home the coveted award subsequently ending Avis' nine-year streak. Other competitors in the category included Alamo, Budget, Hertz and National.
"The car rental industry was long overdue for innovation," said Silvercar CEO, Luke Schneider. "We're thrilled to be recognized for delivering a customer experience superior to anything else out there. Revolutionizing car rental is just the beginning of our efforts to lead and deliver the next generation of personal transportation."
Silvercar will now join the other regional winners on an international scale for the next round of the World Travel Awards™. Votes are now accepted online here and will conclude on Sunday, November 8th. The World Travel™ will announce the global winners at their Grand Finale on December 12th at Mazagan Beach & Goft Resort in El Jadida, Morocco.
About Silvercar: Car Rental The Way It Should Be
Founded with a mission to eliminate typical frustrations and points of friction that have plagued its industry for decades, Silvercar is paving the way for the future of car rentals. The company's seamless car rental business—offering ONLY fully loaded silver Audis—eliminates lines, counters, paperwork, and hassles by delivering the entire experience through an easy-to-use mobile app and friendly concierge service. Silvercar is continuously earning the highest customer satisfaction and loyalty scores in the industry and is currently offering service in five of the six busiest car rental markets in the U.S. (SFO, DEN, LAX, MIA, PHX as well as DFW, DAL, FLL, ORD, AUS and NYC via The Silver Towers through early 2016.) To learn more, download the Silvercar app and/or visit Silvercar.com.