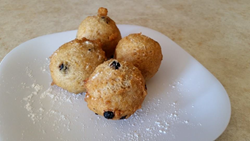 If you like pancakes, you'll love Ballz!
Minneapolis, Minnesota (PRWEB) October 22, 2015
Having what it takes to bring a frozen food product to market may seem a bit scary to most, but a food entrepreneur from Minneapolis, Minnesota thinks he has just the balls, or even better, Ballz to do it. Adam Schreifels, the founder and creator of Ballz, which are a deep-fried pancake ball, hopes that once his frozen food product is on store shelves, shoppers everywhere will add them to their breakfast foods list. He has started a Kickstarter campaign to bring his frozen food product to market. He hopes to have them in grocery stores nationwide within the next year.
Mr. Schreifels stumbled across the idea for Ballz pancake balls when having breakfast with a friend over 10 years ago. The restaurant they were at had a pancake appetizer in the shape of a ball. Mr. Schreifels recalls joking about bringing a product like that to the MN State Fair, saying "We could call them Ballz, make cool names and put them on a stick". Fast forward ten years and Ballz didn't make it to the State Fair (yet), and they weren't on a stick. But, Ballz did make it to A Taste of Minnesota and some other outdoor events. People loved them. Not only did food enthusiasts love the product, they loved the name. Customer after customer asked to have pictures taken with the signage and tee-shirts. Some offered to buy the shirts right off the backs of the workers. One thing is for sure, Ballz create excitement.
Because Ballz were so well received, Mr. Schreifels decided the next step ought to be for him to bring them to the retail market. He hopes they will be on the top of the list of breakfast foods for people young and old alike. Ballz aren't just for "foodies" either. "If you like pancakes, you'll love Ballz," says Adam. No deep fryer? Don't worry, Ballz can be oven baked. Even better, there's no mess to clean up after, like with regular pancakes. When asked whether or not Ballz are better than homemade pancakes, Mr. Schreifels insists, "Pancakes are great, in the form of a ball or traditional. Ballz are a great alternative to the traditional pancake".
Exhausting his own financial resources buying equipment and other things to bring Ballz to the outdoor events, Adam decided to turn to the public for help in bringing Ballz to grocery stores, as it's an expensive endeavor. The Kickstarter campaign looks to raise $65,000. The money will be used for product development, packaging design, attorney's fees, broker fees, among other things. Now that may seem like a lot, but with the fun "Backer Rewards" Adam hopes pancake lovers and food enthusiasts will support the campaign.
Kickstarter campaigns operate under an "all-or-nothing" funding model so if the Ballz pancake ball project doesn't reach its goal in 30 days, then it means Adam and pancake lovers everywhere go home empty-handed. They are sure to appreciate all who spread the word about their campaign to their social media networks. For as little as $1 one can help their project come to life. For those that want to be "Ballzie", there are plenty more fun rewards for any budget, including samples. For the extremely generous, donating $7500 will ensure they are among the first in the world to have their own flavor name. Currently there are three flavors, Ballz original, Sin-a-Ballz (cinnamon) and Blu Ballz (Blueberry).
Adam believes strongly in the importance of giving back. That is why once Ballz are on the market, 5% of all profits will be given to charities focusing on food insecurity and bullying.
For more information, contact Adam Schreifels, Ballz founder. To be part of the campaign search for Ballz Pancake Balls on Kickstarter. Be sure to follow them on Twitter (@BallzPancakes) and Facebook (BallzPancakes) to follow their progress.