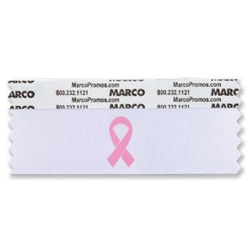 Harrisburg, PA (PRWEB) October 20, 2015
Marco Promos is working hard to help its customers, but not just through its usual means of high quality service and products. During October, in honor of Breast Cancer awareness month, Marco will be donating 5% of all pink sales to support Breast Cancer Research and offering one free pink breast cancer awareness ribbon with every badge holder purchased.
LaDonna C. at the YMCA Silicon Valley commented on how they were using the BCA awareness ribbons "We are an agency that provides services to women and have made the ribbons available to staff, volunteers and the clients we serve so they can show support to the cause in their own way."
In addition to helping companies promote and build their brand, Marco is committed to serving a greater mission.
CEO Richard Nelson experienced the reality of breast cancer firsthand with his mother. "It touched my life early on as breast cancer claimed my mother at the too-young age of 62 after a tough, five-year battle. The medical advice at the time was to 'keep an eye' on the lump she found. Today's medical advice would be different and I'm guessing the outcome would be different too…though, of course, there is no way to be sure."

In 2015, an estimated 231,840 cases of invasive breast cancer will be diagnosed in the U.S. alone.
A diagnosis is not a death sentence. Breast cancer can be treated.
And, MARCO Promos is determined to help. Customers can call 877.859.1033 to learn more about the free ribbon offer and the pink products available to help support the efforts to raise breast cancer awareness.
MARCO Promos was founded in 1964 as a family business in Pennsylvania. Over the past 51 years MARCO has become one of the industry's leading providers of promotional products and meeting supplies helping 10's of thousands of clients conduct successful meetings and promotions through its compelling value model: operationally efficient direct-to-buyer platform that allows MARCO to be a low cost provider yet maintain its well-known, industry-leading customer care focus. http://www.marcopromos.com
###