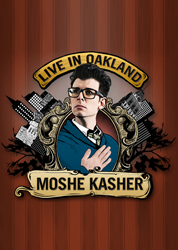 He doesn't let anything get in the way of his art.
Los Angeles, CA (PRWEB) October 20, 2015
Oakland-bred comic and best-selling author Moshe Kasher comes back to the Bay Area in this standup special. Back on his home turf, Kasher finds comedy in uproarious stories about the people he's met and how they see him.
Kasher was named "Best New Comic" by iTunes the same year his album Everyone You Know Is Going to Die, and Then You Are! made it into the top 20 comedy albums. Punchline Magazine called him "Comic to Watch in 2010" and he was named "Best of Fest" at the Aspen Rooftop Comedy Festival. He has performed on Late Night with Jimmy Fallon, John Oliver's New York Stand Up Show, and Conan. He has also frequently appeared as a panelist on Chelsea Lately. He is a published playwright and authored an autobiography called Kasher in the Rye: The True Tale of a White Boy from Oakland Who Became a Drug Addict, Criminal, Mental Patient, and Then Turned 16.
"It's obvious why Kasher is such a respected artist in the industry," says Brian Volk-Weiss President of Comedy Dynamics. "He doesn't let anything get in the way of his art."
Moshe Kasher: Live in Oakland was directed by Jay Chapman, and written and performed by Moshe Kasher. Josh Lieberman, Jim Sharon, and Brian Volk-Weiss executive produced.
Comedy Dynamics is the largest independent comedy production and distribution company in North America, specializing in a range of established and emerging comedic talent including Aziz Ansari, Jim Gaffigan, Bill Burr, Chelsea Peretti, Katt Williams and many more. The Comedy Dynamics catalog is available on most video streaming platforms including, but not limited to: Hulu, Roku, iOS, Amazon, and Android.