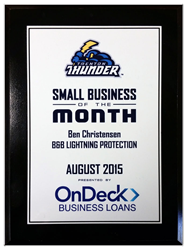 Trenton is the ideal place for the business - lightning protection.
Hamilton, NJ (PRWEB) October 20, 2015
B&B Lightning Protection, the premier lightning protection installation company in New Jersey, was awarded the Small Business of the Month Award for August by OnDeck and the Trenton Thunder. This award program was launched in partnership with Minor League Baseball to recognize small businesses that are making a positive impact in their local communities. Ben Christensen, the owner of B&B Lightning Protection, threw out the ceremonial first pitch and was presented with the award on the field prior to the start of the Trenton Thunder's game.
Ben Christensen founded B&B Lightning Protection with his business partner Ben Sutton in 2011 after the company he previously worked for shut down. Ben did not want to see his friends and colleagues out of a job and used his experience in the industry to start his own company. Today, B&B Lightning Protection is a major player thanks to Ben's industry expertise and the work ethic of his employees. The ten-person team at B&B Lightning installs Lightning Protection Systems on commercial and residential buildings throughout New Jersey, Pennsylvania, Delaware, Maryland, Virginia, Connecticut and Massachusetts. On a monthly basis, they are working on 30-40 jobs onsite.
The OnDeck Small Business of the Month Award program recognizes local business owners that epitomize America's entrepreneurial spirit. B&B Lightning Protection's success is due to the hard work of their team during tough times that ultimately made them succeed. B&B Lightning is honored to accept this award.
"Trenton is the ideal place for the business," said co-owner Ben Christensen. "We feel incredibly supported by the community and our location in Central Jersey allows us to service our customers in a timely manner."
B&B Lightning Protection joined select small businesses from around the U.S. being recognized by OnDeck and Minor League Baseball across more than 20 activation clubs this season.
B&B Lightning Protection is known as one of the premier commercial lightning protection installation companies in the Northeastern United States. Ben Sutton, Head Estimator at the firm, explains that the award comes at no surprise and adds that "[..]through our unparalleled customer service, economical pricing, and quality installations we continue to build lasting relationships with our customers and clients. We are both L.P.I. and U.L. certified, and use only UL approved hardware."
To learn more about B&B Lightning Protection and their lightning protection services please visit http://www.bblightning.com or call 609-888-1929.