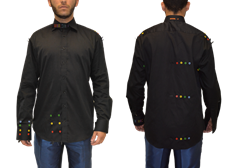 We encourage men to say no to off the rack clothing by offering them beautifully custom-made shirts that they can measure and order from home.
New York, NY (PRWEB) October 21, 2015
BookATailor today launched a Kickstarter campaign for its unique patented self-measuring tool, Bespokino, allowing customers to measure and order the perfect fitting custom shirts online, from home.
Bespokino gives customers an adjustable fit shirt as a measuring tool for the ultimate fit when ordering custom dress shirts from home. Using color coded buttons, the Bespokino shirt fits the body without using a measuring tape. It eliminates measuring errors to near zero, compared to the traditional measuring tape method, where the error rate can be as high as 65%.
Bespokino makes fittings easy and precise, resulting in the best cut custom dress shirts on the market. BookATailor is perfect for anyone who seeks convenience and is tired of buying off the rack clothing that doesn't fit properly.
"Custom clothing is the future. Men have trouble finding dress shirts that fit properly; the sleeves are too long, the shirt is too long, or the neck is too small," said Jacomo Hakim, CEO of BookATailor. "Finding online custom clothing is very difficult, and taking proper measurements with the old-school measuring tape method is frustrating and unreliable. We have invented a foolproof way for quick, easy and perfect custom measurements at home."
With Bespokino technology, the patented measuring tool allows for the most precise fit on the market and there are over 100 fabric colors and patterns to choose from.
Hakim has solved industry bottlenecks and inefficiencies through automation, allowing him to streamline his business and cut overhead costs making his custom shirts not only the best fitting, but also the best priced truly custom shirts.
"We encourage men to say no to off the rack clothing by offering them beautifully custom-made shirts that they can measure and order from home," added Hakim.
BookATailor.com, allows users to go online and make an appointment to visit their virtual showroom. Once there, a personal styling genius takes 18 unique measurements using Bespokino, and creates their very own Bespoke profile.
After choosing from over 100 fabric colors and patterns, customers are shipped their high quality custom clothes that fit perfectly and are designed just for them.
Kickstarter early bird special prices start at $89 for two custom shirts and $169 for four custom shirts.
For more information and to pre-order custom shirts along with the Bespokino measuring tool, visit Kickstarter.
About BookATailor:
BookATailor has been in business for over three years, and has showrooms across the United States. They handle their own production and manage the entire process. Taking it one step further, they also opened up their own production facility, meaning they are the only 100% vertically integrated online tailor controlling the whole process from start to end. BookATailor makes shopping for custom clothing an enjoyable and interactive experience with great results.