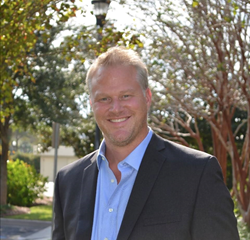 "I invite my customers to view me not as their loan officer, but as their mortgage planner,"
Philadelphia, PA (PRWEB) October 21, 2015
New Penn Financial announced today the hiring of Tim Loss as Regional Manager in Charleston, South Carolina. Tim brings over 12 years of managerial experience, and a proven track record of increasing productivity in his sales teams. He also brings a background as both a top producing loan officer, and as a Solutions Coach to a Debt Relief Agency.
Tim's background serves as the foundation for his approach to mortgage lending. "I invite my customers to view me not as their loan officer, but as their mortgage planner," Tim says." I then take a consultative approach, providing several strategies which serve the customer's short term and long term goals."
"Tim has the ideal work ethic that New Penn needs to establish itself in South Carolina," said Regional Manager Dylan Veal. "He approaches everything with a plan. He's methodical and consistent. People respect him for his work ethic and enjoy working with him for his personality. We're going to have a lot of happy customers in South Carolina."
About New Penn Financial
New Penn Financial® continues to assemble deeply experienced and highly seasoned industry leaders making us one of the fastest growing lenders in the nation. As a direct lender and servicer, we have positioned ourselves to be able to provide loans that serve a variety of scenarios. This allows us to assist more customers while maintaining the highest compliance standards and ensuring great customer service at every stage. Our leadership has successfully and strategically directed their teams to be prosperous during the downs of a challenging economy while capitalizing on the potential of a robust one. This depth of wisdom and focus on quality allows us to innovate with confidence, develop superior products, provide exceptional service and support, and back it up with the kind of solid foundation that is renewing the American Dream, all across the country.