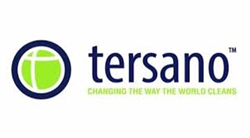 The NSF White Book listing for lotus PRO adds huge third party credibility.
Las Vegas, Nevada, USA (PRWEB) October 19, 2015
Tersano President and Founder Steve Hengsperger today announced the official approval by the NSF of the green cleaning technology leader's lotus PRO High Capacity SAO dispenser for hard surface sanitation and disinfection.
The much sought after approval and listing in the NSF's White Book comes days ahead of Tersano's appearance at ISSA/INTERCLEAN North America, where the company's patented SAO (Stabilized Aqueous Ozone) technology will be showcased from October 20th to October 23rd at the Las Vegas Convention Center, Las Vegas, NV, USA.
The world's most recognized independent food and public health and safety listing and the world's leading trade conference for advancing cleaning, maintenance and janitorial standards respectively, the NSF White Book and ISSA/INTERCLEAN put Tersano's SAO technology on the radar screens of over 7,000 distributors, building services contractors and end users in over 150 countries worldwide.
"" Says Hengsperger. "It also attracts attention to our SAO story, which sets us apart. Our stabilizer treats tap water as it enters the lotus PRO system, creating a form of engineered water we call SAO which outlasts AO (Aqueous Ozone) as a sanitizer, deodorizer and cleaner. Unlike AO, SAO lasts for days instead of hours before turning back into water and oxygen."
The NSF White Book listing assures that the lotus PRO SAO technology has been tested by one of the most respected independent certification organizations anywhere, and that lotus PRO complies with all regulatory requirements. The listing also provides:

An impartial review against established guidelines
Substantiation of performance claims
Evidence of ongoing commitment to quality, compliance and safety
Hengsperger and key Tersano personnel will be on hand throughout ISSA/INTERCLEAN to talk about the NSF, Green Seal and other certifications while shedding light on the science behind Tersano's SAO technology. They will also unveil new and innovative applications of Tersano technology including The PRO3GRAM AO Laundry Program, an AO system for commercial ice makers, and a new self-contained, portable hand-held, spray bottle system.
For more information please visit us at ISSA/INTERCLEAN Las Vegas Booth 1991, please contact:
Steve Hengsperger - President
steve(at)tersano(dot)com
+1-519-567-7535
Tersano Inc. is a privately held innovations company based in Windsor, Ontario with offices and distribution centers throughout Canada, U.S.A, Australia and Europe. The company develops and manufactures lotus® PRO Stabilized Aqueous Ozone (SAO) products for commercial customers worldwide and is actively committed to advancing environmentally safe and healthy cleaning, sanitizing and odour eliminating technologies. Made from tap water, SAO is a form of engineered water that cleans for up to 6 days, and sanitizes for up to 24 hours before turning back into water and leaving no residuals.