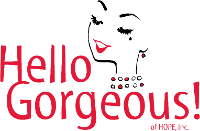 Becker said, "Dealing with the appearance transitions is difficult enough without inadequate knowledge about how to take care of yourself properly."
Washington D.C (PRWEB) October 19, 2015
Kim Becker, founder of Hello Gorgeous! of Hope Inc. a non-profit that provides complimentary makeovers and education for women battling cancer and author of "I Promise to Put My Lipstick on When I Get There," is offering women who are going through cancer treatments three tips to help them navigate their changing appearance with grace and dignity. Becker said, "Dealing with the appearance transitions is difficult enough without inadequate knowledge about how to take care of yourself properly."
These three tips can help women through some of the difficult adjustments: 1). Keep facial tissues handy. The chemotherapy drugs that are used to kill your cancer can also kill the fast growing cells in your body. This is why hair loss may occur as well as the loss of your eyebrows and your eyelashes. What you may not know is that you can also lose your nose hairs. This may seem insignificant but these hairs keep the moisture in your nose. In the absence of these hairs the moisture leaves your nose causing a nasal drip. Keeping facial tissues on hand can help combat that drip.
2) Avoid using your fingers to dispense your products. Let's say your moisturizer is in a jar and you stick your finger in the jar to retrieve the product. Any bacteria or germs that were on your finger are now in your jar. If you do this day in and day out that's a lot of bacteria. Using a small makeup spatula to dispense your product from the jar will cut down on the amount of germs and bacteria in your product. Use a new spatula each time you use your product.
3) How to prepare for the return of your hair. Even though you're hair is gone you shouldn't neglect your scalp. I would recommend washing your scalp with professional salon shampoo. The shampoo will remove any impurities and dead skin cells that may accumulate on your scalp and would inhibit the growth of new hair. You can also moisturize your scalp with the same product you use to moisturize your face.
Hello Gorgeous! of Hope Inc. is a non-profit that provides complimentary, professional makeovers and cosmetic education to women battling cancer. The non-profit was created to: 1) strengthen the confidence of women who have treatments 2) empower them and 3) help them to feel beautiful while they are experiencing treatments. Hello Gorgeous! of Hope Inc. has helped over 600 women across the U.S. but the goal is to have at least two locations in every state.
Both Kim and Michael Becker have received the Mom`s Choice Award for their first book, "Hello Gorgeous!: A Journey of Faith, Love and Hope", published by Corby Books. They are also the 2015 Points of Light Award winners and the American Cancer Society 2014 Coaches Verses Cancer Night of the Stars Inspirational Award winners. They have been married for 21 years and live in Indiana with their 12-year old son, Seth and a pug named Sam.
If you would like more information about Hello Gorgeous! of HOPE, Inc, information about how to donate, or to buy their new book "I Promise To Put My Lipstick on When I Get There" contact 855-434-3556, or email hellogorgeousin(at)sbcglobal.net. You can also log onto the website at http://www.hellogorgeous.org.
###