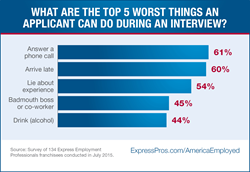 The ability to stand out can be the difference between a job offer and a rejection, provided you're standing out for the right reasons
Oklahoma City, OK (PRWEB) October 21, 2015
Express Employment Professionals today released new survey results detailing some of the cleverest things people have done to get jobs, as well as some of the worst mistakes job applicants have made in interviews.
First, the survey asked Express franchisees to name some of the "cleverest ways someone submitted a resume." Responses included the following:

Typing the resume out like a movie script
Attaching the resume to a light bulb ("It's a bright idea to hire me!")
Delivering the resume in a box via UPS
Presenting the resume as a menu
Leaving the resume on a car
Putting the resume on a CD along with video, still shots and music
Presenting the resume as a radio commercial
Delivering the resume with a box of doughnuts
Franchisees were also asked about the "cleverest things you've ever seen someone do to get a job." Responses included the following:

Bringing a portfolio and giving a brief presentation of their work
Bringing lists of potential clients and other ideas for the position
Creating a business plan
Offering to work a period for free to demonstrate their value
Providing referrals from someone known to the employer
Writing a press release announcing their hiring
Researching the company and their interviewer
Unfortunately, not every job applicant delivers that level of creativity. Franchisees report plenty of mistakes in the application process, particularly in interviews.
Survey respondents were asked to name the "top five worst things an applicant can do during an interview." The following responses topped the list.

Answering a phone call (61%)
Arriving late (60%)
Lying about experience (54%)
Badmouthing boss or coworker (45%)
Drinking alcohol (44%)
These aren't hypotheticals. Express franchisees report witnessing these mistakes firsthand. When asked to name the "worst thing you've ever seen someone do in an interview," respondents produced the following real life examples:

Answering the phone
Asking to step out for a smoke break
Asking at the end of the interview, "What am I interviewing for?"
Badmouthing their former employer and sharing that they have a pending lawsuit against them
Bringing a baby and changing its diaper
Bringing a child that sits in their lap
Bringing a pet
Bringing their mother
Chewing tobacco
Disclosing they are interviewing just to keep unemployment benefits
Falling asleep
Listing their own cell phone number and posing as their own reference
Listening to headphones
Vaping
Wearing pajamas
"When you're competing to win a new job, it can pay to be creative. The ability to stand out can be the difference between a job offer and a rejection, provided you're standing out for the right reasons," said Bob Funk, CEO of Express, and a former chairman of the Federal Reserve Bank of Kansas City.
"Even if you're not creative, though, you must be competent. It never ceases to amaze me the way some people ruin their prospects with unforced errors in interviews. Your interviewer should have your undivided attention. If you can't make it through an interview without answering a phone, texting a friend, smoking a cigarette, or tending to your children, I can pretty much guarantee you that you won't be landing the job."
The survey of 134 Express Employment Professionals franchisees was conducted in July 2015.
***
If you would like to arrange for an interview with Bob Funk to discuss this topic, please contact Sherry Kast at (405) 717-5966.
About Robert A. Funk
Robert A. "Bob" Funk is chairman and chief executive officer of Express Employment Professionals. Headquartered in Oklahoma City, the international staffing company has franchises in the U.S., Canada and South Africa. Under his leadership, Express has put more than five million people to work worldwide. Funk served as the Chairman of the Federal Reserve Bank of Kansas City and was also the Chairman of the Conference of Chairmen of the Federal Reserve.
About Express Employment Professionals
Express Employment Professionals puts people to work. It generated $2.85 billion in sales and employed more than 456,000 people in 2014. Its long-term goal is to put a million people to work annually.