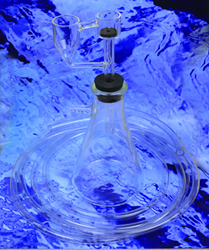 FireflySci's customers are really to thank
Brooklyn, NY (PRWEB) October 20, 2015
FireflySci Inc., the newest manufacturer and distributor of glass and quartz cuvettes is shaking things up yet again. Besides offering the most personable customer service and a huge selection of stock quartz cuvettes they have been making big contributions to the quartz cuvette industry. One of the most prominent contributions is their spectrophotometer calibration standards that never require re-calibration. Now they have released a number of tools that make maintaining a cuvette super easy.
These new cuvette tools are exactly what every scientist dreams of in terms of getting the best results from their experiments. "FireflySci's customers are really to thank," states Simcha Woitovich, President of FireflySci. Mr. Woitovich stated that based on their previous discussions with their customers the biggest demand was for a better way to clean a quartz cuvette. So Mr. Woitovich consulted with the companies Vice President, Gordon Cinco, to help solve this issue.
The FireflySci team has been hard at work developing these tools for months. One of the newest tools is what the guys at FFS call the "Cell Squeegee." The Cell Squeegee is a long tool that has a rubber blade on the end. This tool makes it easy to remove stains and build up that is on the inside of a cuvette. Simply insert the squeegee into the cuvette, apply pressure to the wall that needs to be cleaned, and pull the squeegee out. The Squeegee has a flexible head to it can move easily inside a 10 mm cuvette and it makes it a snap to clean in the corners.
The Cell Squeegee is made from a soft plastic that will not scratch a cuvette. This means that people can aggressively clean the quartz cuvette with no worries about damaging the optical surfaces.
A worthy mention in cuvette cleaning tools is the legendary FireflySci cuvette washer. This cuvette washer is used in thousands of labs across the globe use on a daily basis. This powerful cuvette washer can thoroughly wash a quartz cuvette in about 5 seconds.
The Cuvette Washer is made out of 100% pyrex glass. This gives customers the flexibility to use almost any chemical solvent as a cleaning agent. Most other washers are made out of plastic, drastically limiting the selection of cleaning solvents that can be used.
The guys at FireflySci are really pumped up about quartz cuvettes. This can easily be seen by their positive attitudes and cheerful website. These guys are really in it to bring the most complete cuvette experience for their customers available.
For more information visit http://www.fireflysci.com now.