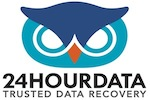 24 Hour Data is honored to receive this award, and we are eager to provide the U.S. Government with the same outstanding service we've provided all our customers since 2006
Plano,TX (PRWEB) October 21, 2015
The award of this contract establishes 24 Hour Data as an approved provider of professional data recovery services to all U.S. federal, state, and local government agencies. Under the terms of the contract, which runs through October of 2020, 24 Hour Data will provide rapid turnaround and competitive pricing on data recovery services for all government clients. Services will be available for immediate purchase via GSA Advantage!, the Federal Government's premier online catalog, information, and ordering systems which gives federal customers the ability to quickly search, compare and order those products and services which best meet their needs.
"24 Hour Data is honored to receive this award, and we are eager to provide the U.S. Government with the same outstanding service we've provided all our customers since 2006," says Sean Wade, CEO of 24 Hour Data. "For several years we've been doing data recovery projects for different government clients, including the US Army, Navy and other agencies. This award underscores our superior capabilities and is an acknowledgement of our past performance record. We look forward to growing our Federal business through GSA."
With its headquarters and primary lab facilities located in Plano, TX, 24 Hour Data has been a leader in advanced data recovery services in North Texas since 2006.