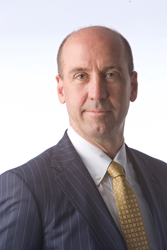 One of my tasks as a futurist is helping to open audiences' eyes and getting them to ask the right questions.
Memphis, TN (PRWEB) October 21, 2015
The Big "AHA" is futurist Jack Uldrich's acronym for Awareness, Humility and Action. He utilizes it in order to help clients think more constructively about the future.
Having recently just addressed over 750 audience members at Morehead State University last week in Kentucky, Uldrich will now head to Memphis to deliver his keynote, "The Big AHA" to a leading global delivery services firm on Thursday, October 22nd.
Uldrich, who speaks over 100 times a year to a wide variety of businesses and organizations, especially on the transformation of health care, agriculture, education, energy, finance, retail and manufacturing argues that creativity and action are more powerful and versatile than knowledge.
In addition to the three key principles of awareness, humility and action, which he highlights with amusing anecdotes, Uldrich says, "Another great way to start future proofing is by constantly asking new and provactive questions. Unexpected questions take people of out their comfort zone and often times that is just what organizations need in order to grow beyond where they are now."
Uldrich says, "The future is full of extraordinary opportunities but more frequently than not, organizations are so focused on its day-to-day activities that they fail to become aware of the opportunities that are right in from of them. My work is about opening their eyes and getting them to ask the right questions."
Parties interested in learning more about him, his books, his daily blog or his speaking availability are encouraged to visit his website.