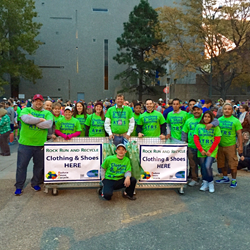 CASF provides so many opportunities for local athletes with disabilities and I'm thankful to have a platform to share their mission.
Denver, CO (PRWEB) October 19, 2015
A team of twelve U.S. Airmen and their families joined marathoners at the Rock 'n' Roll Denver Marathon & 1/2 this past weekend, raising awareness for a unique clothing & shoe recycling partnership benefitting a local charity in the Mile High City.
Clad in signature lime green ROCK RUN RECYCLE tank tops and running gear, the marathoners were sponsored by American Textile Recycling Service (ATRS) and participated in the Half Marathon, 10K and 5K races. They set the pace for other participants by shedding warm up layers for recycling on behalf of local charity Colorado Adaptive Sports Foundation (CASF). Many marathoners followed the team's lead and as the weather warmed, dropped sweatshirts, gloves, hats and warm layers into designated carts at the corrals before taking off at the start line.
"I was thrilled to run on behalf of Colorado Adaptive Sports Foundation," said Ernest Regalado, a sponsored Airman and Colorado Springs resident. "CASF provides so many opportunities for local athletes with disabilities and I'm thankful to have a platform to share their mission."
Ernest ran in the 5K alongside five fellow Airmen, all of whom were happy to drop their warm up gear in the corrals right before the starting gun send off.
Volunteers also decked in lime green CLOTHING & SHOE RECYCLING tees followed closely behind runners to pick up and recycle all discarded textiles, effectively clearing the course in front of waste disposal trucks and diverting these items from Denver landfill. This was the first year for the American Textile Recycling Service clean up campaign in Denver, although ATRS has recycled annually on six other Rock 'n' Roll courses for the past three years. The newly expanded partnership is an extension of the six year philanthropic relationship between ATRS and Colorado Sled Hockey.
Approximately 1,450 pounds of recyclable materials, including unused runner swag, were collected at the race. Colorado Adaptive Sports Foundation will receive funding for every pound of textiles donated at the Expo, on the course and at the finish line. Nearly 17,200 pounds of non-perishable goods were collected to support CASF's local programs and sporting events.
ATRS wishes to extend special thanks to all the runners, participants and spectators for supporting the ROCK RUN RECYCLE campaign and creating a cleaner, greener race at The Rock 'n' Roll Denver Marathon & 1/2. All warm up gear, clothes, towels, unused runner swag and other valuable textile items will be reused, redistributed and recycled while benefitting local athletes. It's a win win win for participants, organizers and the City of Denver!
About the Rock 'n' Roll Marathon Series
Organized by Competitor Group, the Rock 'n' Roll Marathon Series annually welcomes more than 600,000 professional and amateur runners taking part in 29 events around the world. The series, which started in 1998 with the simple idea of making running fun, has transformed the U.S. running landscape by infusing the course with live bands, cheer teams and entertaining water stations, creating a block-party atmosphere for participants and spectators alike.
Race weekend kicks off with a free Health & Fitness Expo showcasing the latest in running gear, sports apparel, health and nutritional information and much more. Events culminate with an entertaining finish line festival featuring some of the biggest names in music, with past headliners including Pitbull, FloRida, Bret Michaels and Macklemore. Rock 'n' Roll Tour Pass offers runners access to run multiple races for one-low price and earn Heavy Medal bling by completing more than one race in a calendar year. For more information, please visit RunRocknRoll.com or follow @RunRocknRoll on Twitter.
About American Textile Recycling Service (ATRS)
The nation's fastest growing textile recycler is an official recycling partner of Rock 'n' Roll Marathon Series. Its socially responsible business model provides free textile recycling solutions for the public, job stimulation worldwide and much-needed funding for worthy local charities. Easy, convenient ATRS Clothing & Shoe Recyclers are available throughout Dallas and Ft. Worth, Texas, Arizona, Texas, Colorado, Florida, Michigan, Tennessee, Atlanta, Oklahoma, and Southern California. ATRS is committed to keeping textile waste from local landfills and promoting a greener tomorrow. For press inquires contact pr (at) atrsonline (dot)com.