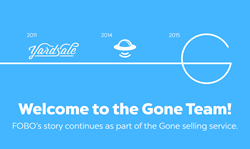 We're excited to increase our presence and competitive advantage in the on-demand selling space.
San Francisco, CA (PRWEB) October 20, 2015
San Francisco, CA -- the leading selling on-demand service, Gone, acquired Yardsale Inc. assets, including its online listing and selling product and platform, FOBO. Going forward, Yardsale co-founders Ryan Mickle and Ed McManus will work closely and with the Gone team in advisory roles.
The acquisition will strengthen Gone's foothold in the on-demand selling services space by creating together the first retail grade second-hand consumer electronics marketplace, increasing their expertise in the space by leveraging Ryan's and Ed's contributions to the go-forward strategy and product line, with the aim to achieve a combined base of over 200,000 users on the Gone and FOBO platforms. By leveraging the power of Gone's technology and logistics platform, the team plans to revitalize the FOBO marketplace by creating dynamic synergies in order to provide the ultimate buying and selling experience in the second-hand electronics market.
Yardsale participated in the Y-Combinator accelerator in 2011, initially focusing on its elegant classifieds app, built for iPhone. Yardsale launched FOBO in early 2014, yielding them a $1MM run rate within two months and a seed financing of more than $2.5MM from a group of notable Bay Area investors.
"We're excited to increase our presence and competitive advantage in the on-demand selling space," said Nicolas Bayerque, Co-Founder of Gone. "With the addition of the FOBO platform to our already strong technology, the addition of Ryan and Ed to our team, and our combined networks, we see Gone's platform as being the leader in the on-demand selling market. The ability to leverage these new resources as we ramp up for the anticipated launch our Gone concierge service in Boston and New York later this month will certainly increase our competitive advantage in the space."
Since its launch in 2014, Gone has been a leading on-demand selling service company and launched its Gone! application and platform in August 2014. For more information about Gone, visit http://www.thegoneapp.com.
About Gone
Gone helps users get rid of unwanted items by making the selling process easy. The Gone Lite version of the app sends users boxes for users to ship their items and is available nationwide, with users selling mostly electronics and taking home an average of $210. Gone users in San Francisco and Austin, however, can use the Gone concierge service, where a Gone assistant meets them at their location to pick up items. A graduate of TechStars Austin, Gone is backed by industry recognized investors including Techstars Ventures, MasterCard, Silicon Valley Bank, Cygnus Capital, NXTP Labs,Grooveshark Co-Founder Andres Barreto, Uber Founding CTO Oscar Salazar, former eBay executive Larry Illg, and early Groupon employees. The app is available for free on iOS and via SMS.