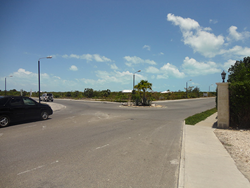 This track of land is situated on a roundabout that has one of the highest traffic counts on Grace Bay Road, making it the perfect property for entrepreneurs, investors and developers alike
Providenciales, Turks and Caicos Islands, BWI (PRWEB) October 22, 2015
RE/MAX Real Estate Group Turks and Caicos Islands has recently listed a 2.10 acre undeveloped commercial lot for sale in Providenciales. This parcel of land is on a corner lot on Grace Bay Road, and is within walking distance of Grace Bay Beach and all its amenities, attractions and hotels. The property is listed at USD $1,895,000.
"This track of land is situated on a roundabout that has one of the highest traffic counts on Grace Bay Road, making it the perfect property for entrepreneurs, investors and developers alike," says Blair MacPherson, co-owner of RE/MAX Real Estate Group Turks & Caicos, member of the Turks and Caicos Real Estate Association (TCREA). "This property would be an ideal location for a commercial venture such as a high-end retail shopping center, a hotel or resort, an office building or a residential complex. This is one of the few developable land tracks in the heart of Grace Bay with such accessibility already built in."
For more information about this property, or to schedule a time to walk through it, contact Blair MacPherson, owner/broker of the RE/MAX Real Estate Group Turks and Caicos, by phone at 1-800-941-0465 or 1-649-432-5677, or by email at blair(at)blairmacpherson(dot)com.
About RE/MAX Real Estate Group Turks & Caicos Islands:
The RE/MAX Real Estate Group Turks & Caicos offers unique, luxury real estate opportunities on the islands that are home to Grace Bay Beach, which has been named one of the world's best beaches numerous times. With breathtaking views, world-class spas and resorts, fine dining, local culture, and the awe-inspiring coral reefs, the Turks and Caicos Islands offer unique investment opportunities in that they are located in a tax-free jurisdiction. For more information, please visit http://www.remax-realestategroup-tci.com.