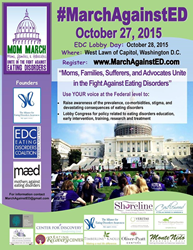 It is important to Castlewood to support the M.O.M. March because our organization is committed to unconditional advocacy for our clients and their families.
St. Louis (PRWEB) October 20, 2015
In a united effort to call attention to the prevalence and tragedy of eating disorders, Castlewood Treatment Centers, headquartered in St. Louis, has joined the national Eating Disorders Coalition in sponsorship of the M.O.M. March in Washington, D.C., the last week of October. The march, which will include sufferers of eating disorders, their families, advocates and medical professionals, will be held from 3 to 7 p.m. Tuesday, October 27, starting at the West Lawn of the U.S. Capitol.
It is part of two days of events, which will include lobbying members of Congress regarding the Anna Westin Act. Introduced by two House Representatives from Florida, the proposed legislation will help assure that eating disorders receive equal treatment with other health issues in terms of insurance coverage. The act is named for a young woman whose parents began advocating for eating disorder treatment after their daughter, who suffered anorexia, committed suicide. Other organizations involved with the event include the National Initiative for Eating Disorders, the Alliance for Eating Disorders Awareness, and Mothers Against Eating Disorders.
The website describes different options for involvement during the two-day event, which is open to the public. In addition to making their voices heard at the federal level, participants will hear guest speakers and meet other advocates from all across the United States. Their purpose is to raise awareness of the prevalence of eating disorders, to honor those who have lost loved ones, to celebrate those who have recovered and to inform Congress in the hope of influencing federal policy.
First-time participants in the lobbying effort will receive training in how to make effective talking points as a team member. Participants should bring a blanket, a poster-sized photograph of the face of the person they represent, a lawn chair and a backpack. Snacks and beverages will be provided at the march. Directions for parking and information about public transportation are available on the registration website.
Castlewood, which also has centers in Birmingham, Alabama, and Monterey, California, will participate in the M.O.M. March and Eating Disorders Coalition Lobby Day event by providing educational and support materials. Teresa Tipton, director of regional outreach for Castlewood, will be on hand to answer questions and to discuss the importance of equality in treatment.
"It is important to Castlewood to support the M.O.M. March because our organization is committed to unconditional advocacy for our clients and their families," said Nancy Albus, CEO and therapist. "We support this event as it helps raise awareness about eating disorders and works to remove the stigma associated with this disease. We want Congress to recognize the need for effective legislation regarding eating disorders and mental health."
According to organizers, eating disorders are among the deadliest of all mental illnesses, and they affect millions of people. Eating disorders can be treated, and recovery is possible, but equal access to treatment is inadequate. Among the goals of those who will address Congress are to increase the medical community's education and research and to present a united front in advocating for treatment and training.
Registration for the M.O.M. March can be completed online at http://www.marchagainsted.com/about.html.
About Castlewood: Castlewood Treatment Centers for Eating Disorders, with headquarters in St. Louis, also has locations in Monterey, California, and Birmingham, Alabama. Castlewood provides a multi-disciplinary approach to recovery, which includes nurses, dietitians, psychiatrists and therapists. By bringing a variety of skills to the treatment plan, Castlewood professionals assure each client of attention to specific needs. Individualized treatment plans are designed to help clients stabilize, discover the underlying causes of symptoms and pursue a plan of transformation. Families are included in the therapeutic process in order to provide the best possible support and to facilitate understanding of the family dynamics involved in eating disorder situations. Castlewood's comprehensive treatment includes after-care resources and alumni programs to provide ongoing support after residential treatment has been completed.