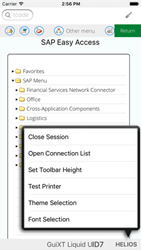 It is about balancing three things: ease of use, ease of deployment and control, and ease of maintainability for your IT department in the future. Liquid UI can be up and running without disruption to your business and to your IT.
FOSTER CITY, Calif (PRWEB) October 20, 2015
Synactive, an SAP partner, today announced Liquid UI for iOS release 2, a powerful new version redesigned with a fresh, modern look, comprehensive native iOS integration and enhancements for connecting iPads and iPhones directly to SAP® software. Synactive announced the new version at the SAP TechEd® conference, being held Oct. 19-23 in Las Vegas, in booth #135. The SAP TechEd conference focuses on technology with an emphasis on collaboration and hands-on workshops, going beyond technical education.
Release 2.0 of Liquid UI emphasizes usability and job efficiency by providing new designs and visualization built from the ground up for touch devices, while retaining ease of deployment and fast and secure connection to the SAP ERP application on the back end through Synactive's patented technologies.
The non-browser-based app also enables a device's built-in camera to be used for bar code scanning or for capturing images to be attached to work orders or sales orders. Liquid UI helps improve shop floor productivity by automating tasks (like pressing Enter after scan) based on bar code prefixes and postfixes. And with Bluetooth printer support, transactional data from SAP applications can be printed remotely to any Bluetooth printer.
Support for additional SAP GUI features such as F4 OCX Help provides the flexibility to search and filter based on values or ranges and helps users to locate correct information efficiently and without errors. And support for table controls in SAP ERP has been enhanced for fluid scrolling on mobile devices.
"It is about balancing three things: ease of use, ease of deployment and control, and ease of maintainability for your IT department in the future. Liquid UI can be up and running without disruption to your business and to your IT - you already know how to manage your SAP GUI deployments. And with high-performance connectivity and visualization, we have essentially extended SAP GUI to your mobile devices," said Thomas Ewe, Synactive CEO. "We've merged the best of both worlds, providing all the power of SAP applications at your fingertips with a modern mobile look and feel."
Liquid UI, built from the ground up from Synactive's patented connectivity libraries, provides access to SAP software through an extension to SAP GUI built with mobility in mind. Additional customization to aggregate and streamline multiple transactions for specific roles or single-purpose task-based applications can easily be accomplished.
"The user experience on a phone or tablet is so different from using desktop applications, yet people are able to set up their own user-friendly mobile experience in as little as 6 minutes," said DeeDee Kato, Synactive's senior director of marketing. "There is no need to upgrade your SAP kernel or add another web layer to get fast responsiveness."
Liquid UI Release 2 includes:

New modernized look which provides larger fonts, tabs, and brighter colors
Ability to attach images from a camera to transactions in SAP applications
Ability to view any type of document attachment (pdf, jpg, .doc, etc) associated with a transaction
Supports adjustable barcode prefixes and suffixes
Supports all Bluetooth printers (with drivers installed in the SAP applications)
Support for F4 OCX control enables better search and filter capability so that users can filter on any value, range of values, etc.
Enhanced table controls provide smooth scrolling through hundreds of columns in a table
Localized for Japanese and Korean languages
Supports 64-bit iOS devices
Supports big-endian systems such as IBM mainframes, the Motorola 680x0, Sun SPARC, PowerPC, and most RISC machines
Supports SAP Business Suite 4 SAP HANA® (SAP S/4HANA)
To showcase the power of Liquid UI, Thomas Ewe will be featured at DemoJam 2015 in Las Vegas to show how to tap directly into back-end SAP applications to access their transactions from mobile devices. He will also show how to customize a business process in 6 minutes.
Liquid UI 2.0 is now available on the App Store for $79 for a single license. For Volume and Enterprise licensing, please contact sales(at)guixt(dot)com or stop by booth #135 at SAP TechEd in Las Vegas.
About Synactive
With 16 years of experience in successfully helping organizations tailor SAP application modules for specific roles, Synactive's Liquid UI easily extends SAP GUI to mobile and portal environments without additional SAP software, kernel upgrade or touching of the back-end SAP software. From sales and distribution to product lifecycle management to inventory control, Synactive provides tools, products and end-to-end solutions for simplifying and customizing the use of SAP applications.
###
SAP, TechEd, SAP HANA and other SAP products and services mentioned herein as well as their respective logos are trademarks or registered trademarks of SAP SE (or an SAP affiliate company) in Germany and other countries. See http://www.sap.com/corporate-en/legal/copyright/index.epx for additional trademark information and notices.
All other product and service names mentioned are the trademarks of their respective companies.
For more information, contact DeeDee Kato at deedee.kato(at)guixt(dot)com.