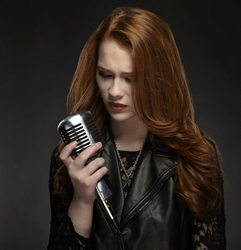 The Jane Addams School Choir is very excited to perform with Amanda Brommel...
Addison, Illinois (PRWEB) October 20, 2015
Fresh off her recent win of 'Best Music Video' at the 2015 Naperville Independent Film Festival for her song 'Last Goodbye', 15 year old local singer-songwriter and rising star Amanda Brommel is set to perform live at a junior high school motivational assembly in Schaumburg. The event will be at 1pm on Thursday October 22nd 2015 at Jane Addams Junior High School located at 700 S Springinsguth Road.
The much anticipated motivational assembly titled 'Stay Curious' will feature a live question and answer segment with students about pursuing their dreams and several songs including Brommel performing with the school's one hundred and fifteen member choir. "The Jane Addams School Choir is very excited to perform with Amanda Brommel. After last week's rehearsal the kid's energy level was high because they had a very positive experience working with her. They can't wait for the show!" says Denise Caliendo, Jane Addams Choral Director. Brommel's live musicians will be Nathan Wagner of Carol Stream on keyboards-vocals and Michael McInerney of LaGrange on guitar-vocals.
Brommel who is now a high school sophomore this year was discovered at a local charity event fundraiser performance when she was only 12. She was signed to an artist development recording contract by music producer and songwriter Robert Mackey who has co-written and worked with Grammy Award winning artist like Jim Peterik (Survivor, 38 Special) and the late Joe South (the hit songs 'Hush', 'Rosegarden'). Her latest song "Last Goodbye" was co-written and produced by Mackey and is released on Big Chance Records. The single and award winning music video were both productions of SONGWERKS Multimedia Studios in the Chicago suburb of Addison Illinois.
For more info visit http://www.AmandaBrommel.com