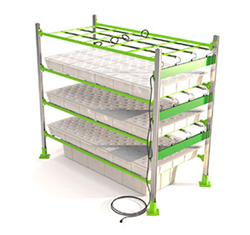 We found the Illumitex lights were considerably less expensive to install and integrate into our designs
Austin, Texas (PRWEB) October 20, 2015
Illumitex is pleased to announce that Indoor Harvest (OTCQB: INQD), design-builder of farms for indoor agriculture, has selected Illumitex as the preferred lighting provider for their systems, which are sold to innovative growers around the world. Together, Illumitex and Indoor Harvest will engage in R&D and coordinated business development activities to offer a complete hardware solution for the indoor farming industry, all at the bleeding edge of agricultural science.
Illumitex designs and builds made-in-the-USA LED light fixtures for controlled environment agriculture, offering energy-efficient lighting specifically tuned to the photosynthetic and photomorphogenic needs of plants.
Houston based Indoor Harvest is a design-build and engineering firm with patent-pending modular framing, integrated HVAC systems and high pressure aeroponics fixtures for use in urban controlled environment agriculture and building-integrated agriculture.
Indoor Harvest produces a Vertical Farm Racking System as well as a Modular Aeroponic System, both of which utilize Illumitex Eclipse LED grow lights. The Eclipse is available in a number of Illumitex's custom spectra, each developed to elicit specific plant responses. The Eclipse series was designed specifically for vertical farming applications, and is the ideal fit for Indoor Harvest's multi-layer grow systems.
"Upon evaluating several LED offerings during our research and development, we found the Illumitex LEDs provided better light intensity and even canopy coverage over other brands," said Indoor Harvest CEO Chad Sykes. "We also found the Illumitex lights were considerably less expensive to install and integrate into our designs."
Using Illumitex LED grow lights, Indoor Harvest is currently working with the city of Pasadena, Texas, on developing a Community Located Agriculture Research campus, as well as with Canopy Growth, the leading producer of medical marijuana in Canada, and on numerous other projects.
"We're thrilled to be working with Chad and his team. Indoor Harvest has brought together the best of the best in terms of indoor growing technology, and we're honored to be included in their systems," said Paul Hardej, Illumitex VP of Hortitecture Lighting Solutions.
Indoor Harvest appreciates Illumitex technology not only for its superior plant-growth capabilities, but also for its ease of use. "When you're building a large vertical farm, there can be thousands of LED fixtures and the labor to install those fixtures can add up quickly. The Illumitex lights were obviously designed with ease of installation in mind," said Sykes. "Also, the Illumitex fixtures are IP66 rated and will meet or exceed most code requirements, making them our go-to fixture for design-build projects."
About Illumitex Inc.
Based in the startup capital of the nation, Austin, Texas, and recently named to the city's prestigious A-List of most promising startups, Illumitex develops groundbreaking LED grow lights for vertical farms, greenhouses and contained environment applications. The company develops horticultural LED solutions that specifically address plants' photosynthetic needs, while saving energy and increasing yields. With its patented LEDs, the vertically integrated company also makes industrial fixtures.
About Indoor Harvest Corp
Indoor Harvest Corp, through its brand name Indoor Harvest®, is an emerging design build contractor and OEM manufacturer of commercial aeroponic and hydroponic system fixtures and framing systems for use in Controlled Environment Agriculture and Building Integrated Agriculture. Our patent pending aeroponic fixtures are based upon a modular concept in which primary components are interchangeable. We are developing our aeroponic and hydroponic systems for use by both horticulture enthusiasts and commercial operators who seek to utilize aeroponic and hydroponic vertical farming methods within a controlled indoor environment. Please visit our website at http://www.indoorharvest.com for more information about our company.