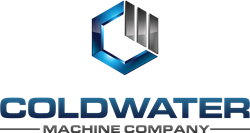 With Coldwater's diverse manufacturing solutions offerings across a variety of industries, Avant Garde provides a good extension of our capabilities
Coldwater, Ohio (PRWEB) October 21, 2015
Coldwater Machine Company, a leading engineering solutions company that manufactures and integrates precision equipment and tools for multiple industries, announced that it has established a business agreement with Avant Garde Technology (Lake Mary, Fla.) providing Coldwater exclusive sales representation and turnkey manufacturing rights to Avant Garde's product and service offerings. Avant Garde specializes in industrial lubrication solutions for metal, glass, ceramic, and plastic products processing across a variety of industries. It additionally offers contracted machining services and equipment refurbishment.
"With Coldwater's diverse manufacturing solutions offerings across a variety of industries, we felt that Avant Garde was a good extension of our capabilities," commented Coldwater President Tim McCaughey. "We're confident that this agreement will help expand market opportunity and benefit both companies."
Avant Garde is recognized for its StaticLube™ brand of electrostatic lubrication equipment and several brands of industrial lubricant specialized for various industry sectors. With this agreement, Avant Garde operations will be moved from Lake Mary to Coldwater Machine's 115,000 sq ft. climate-controlled facility, which includes 39,000 sq. ft. of space for full production line assembly.
Coldwater Machine Company is a leader in the design, build and integration of specialized equipment for discrete manufacturing with extensive precision-machining capability primarily serving companies in the automotive, aviation, aerospace, appliance and energy industries that are producing products requiring tight tolerances. With over 50 years' experience, the company's key competencies include precision machining and assembly, engineering support, design and build of specialized manufacturing equipment, and solid-state welding/joining systems. For more information, call (419) 678-4877 or visit http://www.coldwatermachine.com