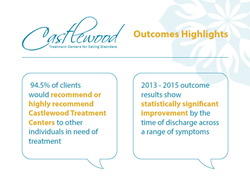 We observe progress in our clients, and it is validating to have the reality of our clients' recovery supported by this research.
ST. LOUIS, Missouri (PRWEB) October 20, 2015
Castlewood Treatment Centers for Eating Disorders, headquartered in St. Louis, has completed a two-year research process that shows statistically significantly results in its success rate for recovery. Castlewood, which also has centers in Birmingham, Alabama, and Monterey, California, recently released its report on treatment outcomes. The report not only validates the processes used by Castlewood's professional staff, but also provides valuable information for ongoing improvement.
The research results, based on a variety of sources, indicate that Castlewood employs highly effective methods. The research methods include a survey among clients regarding their perception of care provided and numerous psychological assessments conducted at admission and at discharge during eating disorder treatment. The results of the 2013-2015 study show that 95 percent of Castlewood clients would recommend or highly recommend Castlewood to others in need of treatment. Other important outcome evidence includes statistically significant improvement among clients in the following areas:

Eating disorder symptoms: Clients tested at admission and at discharge show lower levels of concern about overall eating behaviors, as well as obsession with shape and weight.
Depression: Levels of depression ranked as severe at admission dropped to mild at discharge.
Anxiety: The assessment measures anxiety in two areas – the anxiety level while completing the assessment itself and anxiety as a long-standing personality trait. The average scores showed a drop in anxiety symptoms at the time of discharge.
Trauma: The trauma inventory covers several trauma-related symptoms, including anger, sexual disorders, suicidal tendencies and tension. Trauma experiences also may differ, but the research shows a reduction in trauma symptoms at discharge.
Quality of Life: The assessment measures quality of life specific to clients with eating disorders. There was a statistically significant improvement in the average overall scores indicating an improvement in quality of life at the time of discharge.
All of the outcome data help the Castlewood professional treatment team to continue developing effective treatment based on research evidence, as well as to personalize treatment for each client who enters a Castlewood program.
"We observe progress in our clients, and it is validating to have the reality of our clients' recovery supported by this research," says Nancy Albus, CEO of Castlewood. "It confirms what we know: people who come to Castlewood for treatment achieve recovery."
Castlewood recognizes an eating disorder as a complex disease with a variety of symptoms and underlying issues that contribute to the problem. By making a comprehensive assessment at admission, the Castlewood medical and therapeutic team helps each client develop a customized treatment plan that will address personal needs. Therapists and counselors on staff use several approaches, including cognitive behavioral therapies, exposure and response prevention therapy, creative arts therapies, EMDR and internal family systems therapy. Family members are involved in treatment to help assure the best possible recovery outcome. In addition to receiving individual and group therapy, clients at Castlewood also meet with a dietitian once a week to learn healthy eating habits and have staff supported meals and snacks throughout each day.
Additional information about Castlewood Treatment Centers is available on the website at http://www.castlewoodtc.com or by calling (855) 886-6098. A live chat is available online.
About Castlewood: Castlewood Treatment Centers for Eating Disorders, with headquarters in St. Louis, also has locations in Monterey, California, and Birmingham, Alabama. Castlewood provides a multi-disciplinary approach to recovery, which includes nurses, dietitians, psychiatrists and therapists. By bringing a variety of skills to the treatment plan, Castlewood professionals assure each client of attention to specific needs. Individualized treatment plans are designed to help clients stabilize, discover the underlying causes of symptoms and pursue a plan of transformation. Families are included in the therapeutic process in order to provide the best possible support and to facilitate understanding of the family dynamics involved in eating disorder situations. Castlewood's comprehensive treatment includes after-care resources and alumni programs to provide ongoing support after residential treatment has been completed.