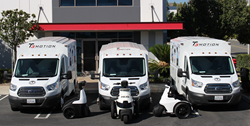 We continue to maximize our public safety partnership with our loyal customers
Brea, CA (PRWEB) October 20, 2015
T3 Motion, Inc. (OTC: TTTM), the global leader in the design and delivery of electric vehicles to the commercial, law enforcement, and security markets, announced the unveiling of its newest national service fleet vehicles. The first of the new T3 Motion mobile fleet repair vehicles will be based in regions with high concentrations of T3 Patrollers — the Northeast, Southeast, and Southwest.
Featuring T3 Motion Factory-trained and certified technicians, each of the T3 Motion Service Units will be equipped to fulfill T3 Patroller and T3 Vision maintenance, upgrades, and repairs — whether on-site or at the certified T3 Motion Service bases.
The T3 Motion Northeastern teams will manage service calls in the New England region. The Southeastern teams will handle customers in North Carolina, South Carolina, Georgia, Florida, Alabama, Mississippi, Tennessee, and Kentucky. Handling the Southwest will be the T3 Motion Factory team which will be deployed from T3 Motion Headquarters in Brea, CA.
"With the deployment of our latest national T3 Motion Service Fleet units, we continue to maximize our public safety partnership with our loyal customers," said Noel Cherowbrier, C.E.O. of T3 Motion, Inc. "Being the leader clean energy patrol solutions since 2006 means we've got thousands of vehicles throughout the world that continue to provide our customers with the proper purpose-built tools for keeping the public safe. We have heard from some of our clients that their T3s have upwards of 88,000 miles on their vehicles and are still out there shift-after-shift. Those remarkable numbers are a testament to the design and quality of T3 Motion vehicles."
About T3 Motion, Inc.:
T3 Motion, Inc. (OTC: TTTM) was founded in 2006 in Costa Mesa, CA and has become the global leader in clean energy, all-electric patrol vehicles for the Law Enforcement, Military, and Security markets. T3 Motion's revolutionary patented T3 Patroller was the first electric multi-shift vehicle designed for professional applications with interchangeable batteries. Deployed at airports, military facilities, retail centers, campuses, business districts, and other high-profile locations, the T3 Patroller has quickly become the choice of public safety agencies around the world. T3 Motion, Inc. now also offers customers the T3 Vision, a smaller all-electric patrol vehicle with interchangeable batteries ideal for interior patrols. For more information, visit http://www.t3motion.com, email sales(at)t3motion(dot)com, or call (714) 255-0200.
"Safe Harbor" Statement under the Private Securities Litigation Reform Act of 1995: Statements in this press release regarding T3 Motion's business, which are not historical facts, are "forward-looking statements" that are not guarantees of future performance. Such forward-looking statements are subject to risks and uncertainties that may cause actual results to differ materially from those anticipated by the forward-looking statements. These risks and uncertainties include, among others, factors associated with market conditions and the satisfaction of customary closing conditions related to the proposed public offering. For additional information concerning these and other factors that may cause actual results to differ from those contained in the forward-looking statements, see "Risk Factors" in the Company's Registration Statement filed on Form S-1, as amended, and in periodic reports the Company files from time to time with the Securities and Exchange Commission.