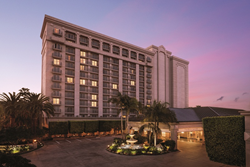 Marina del Rey, CA (PRWEB) October 20, 2015
MARINA DEL REY, Calif. – October 19th, 2015 – Shortly after celebrating its 25th birthday, The Ritz-Carlton, Marina del Rey was awarded the 2015 Cool Planet Award in the hospitality sector for its commitment to the environment, making it a respected leader in the industry.
The prestigious award recognizes Southern California Edison business customers that demonstrate effective energy and carbon management within their business size and industry sector. In partnership with
The Climate Registry – a nonprofit organization that assists organizations in measuring, verifying and reporting the carbon in their operations, each business earned points for its participation in a variety of SCE integrated demand-side management strategies.
"The State of California has shown tremendous political leadership and conviction on climate change over the years, and the need to take action is as urgent as ever," says David Rosenheim, Executive Director of The Climate Registry.
"We commend the 2015 Cool Planet recipients for their outstanding achievements in energy efficiency and reducing greenhouse gas emissions, and for demonstrating to other organizations that doing the right thing also makes good business sense."
The luxury Los Angeles hotel's former Director of Engineering, Jeff Poullath, spearheaded numerous projects that led to its recognition. In response to mandated water restrictions that were put in place after Governor Jerry Brown announced a drought State of Emergency in January 2015, Poullath replaced all of the guest room toilets with a more water-efficient dual-flush unit. Further reducing the hotel's impact on the environment, the old toilets were recycled into base material used for roadway paving. By participating in this initiative, the Marina del Rey hotel is saving an estimated 861,000 gallons of water annually, which is equivalent to washing 20,500 loads of laundry.
During 2014 and 2015, the hotel aggressively reduced its energy consumption by installing numerous components such as: HVAC controls, electronically commutated (EC) motors in walk-in refrigerators and freezers, variable frequency drives on pool and spa pumps, LED lighting throughout the building, as well as upgrading the building management system. By making these enhancements, 1.5 million kWh were saved, reducing its peak demand by 186 kW.
"We are very proud of The Cool Planet Award which is outstanding recognition for the leadership of Jeff Poullath and our Engineering Team. Through our Community Footprints program, we are actively engaged in identifying ways to further reduce energy use and water consumption as part of broader commitment to support our communities and protect the environment," says Tony Mira, General Manager of The Ritz-Carlton, Marina del Rey.
Poullath, who now resides as Director of Cluster Engineering for Marriott's Western Region, received the award at the October 16th ceremony held at the Aquarium of the Pacific in Long Beach, CA. While he no longer oversees The Ritz-Carlton, Marina del Rey, he has passed along 2016 plans to its new Director of Engineering, Shahram Sharafkhanian, to manage while the hotel continues to inspire other industries to work diligently with the environment.
# # #
About The Ritz-Carlton, Marina del Rey
Minutes from LAX, Venice Beach, Santa Monica and Beverly Hills, The Ritz-Carlton, Marina del Rey offers a peaceful retreat that draws on the soothing elements of the surrounding ocean. Guests can admire the exceptional scenery from each of the 304 guest rooms and suites, featuring private balconies; the farm-to-table restaurant, highlighting locally sourced ingredients; LA's only waterfront pool or the luxury spa. As one of the city's only AAA Five Diamond hotels to have a waterfront location, The Ritz-Carlton, Marina del Rey offers a desirable venue for weddings and events, with more than 30,000 square feet of indoor and outdoor function space. Whether visitors are seeking a few days of self-reflection, a relaxing beach weekend, an unforgettable wedding venue or a quintessential California dining experience, The Ritz-Carlton, Marina del Rey offers the perfect destination.
About The Ritz-Carlton Hotel Company, LLC
The Ritz-Carlton Hotel Company, L.L.C., of Chevy Chase, Md., currently operates 90 hotels in the Americas, Europe, Asia, the Middle East, Africa, and the Caribbean. More than 40 hotel and residential projects are under development around the globe. For more information or reservations, visit the company web site at http://www.ritzcarlton.com, and for the latest company updates, visit news.ritzcarlton.com. The Ritz-Carlton Hotel Company, L.L.C. is a wholly-owned subsidiary of Marriott International, Inc. (NASDAQ:MAR).