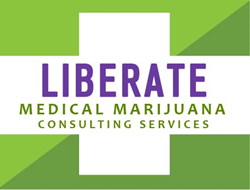 We believe a fully-sanctioned medical marijuana program is coming to Florida in 2016
West Palm Beach, FL (PRWEB) October 21, 2015
After a narrow defeat at the polls last year and a renewed effort underway to legalize medical marijuana in 2016, a leading national firm is now offering personal consulting services in West Palm Beach to people who are interested in becoming medical marijuana cardholders if and when Florida joins the 23 other states that allow people to use the medicine to treat debilitating medical conditions.
Liberate Medical Marijuana Consulting Services opened at 3540 Forest Hills Boulevard today, and is accepting client appointments for people that believe they will qualify for medical marijuana use under proposed law or the 2016 ballot initiative being led by John Morgan and United for Care.
"We believe a fully-sanctioned medical marijuana program is coming to Florida in 2016," says Daniel J Reid, founder and chief executive officer of Liberate, a national firm based in Colorado and Michigan. "We know from experience that potential patients are best served by acting early, as the process for becoming a legal patient in any state is often difficult without expert help. Our services in West Palm are designed to help potential patients navigate the likely steps that will be necessary once Florida approves a medical marijuana program, and to expedite the approval process once a law is enacted."
Liberate clients will automatically establish a bona fide doctor-patient relationship as well as have ongoing access to an attorney as it relates to medical marijuana. Specific services that are part of Liberate's standard $169 consulting package include:

In-office consultation with a Medical Marijuana expert
Completion of a confidential medical history
Authorization to compile medical records
Initial review of medical history by a licensed Physician and establishment of bona fide doctor-patient relationship
Retention of and access to an attorney for matters related to medical marijuana in advance of a Florida law
Personalized plan and timetable
Ongoing access to a personal Liberate consultant
Regular updates and information on medical marijuana, legislation, regulation, law enforcement, public policy
Priority status for physical examination by a physician -- or physician referral -- once a Florida medical marijuana law becomes effective
Membership in a patient advocacy group, including a donation to United for Care
"Our services are designed for Floridians based on our experience in Michigan, Illinois and Colorado," Reid says. "Our goal is to help people with debilitating medical conditions by giving them ongoing help, expertise and access to experts."
Liberate clients will register as patients of Dr. Marla Gendelman, a board certified anesthesiologist with over 25 years of experience. Dr. Gendelman is Chief Medical Officer of Liberate on a national basis, and is licensed in Florida. Liberate clients also will retain the William Moore Legal Defense Law Firm with offices in West Palm Beach and Fort Lauderdale and have ongoing, 24/7 access for legal advice and issues relative to medical marijuana, possession, medical necessity and other legal issues.
Reid says the company will make a donation to United for Care for each individual that becomes a client. United for Care is the organization leading the 2016 ballot initiative to legalize medical marijuana in Florida.
Mark Turgeon, president of the West Palm Beach operation, says he plans to open additional offices in south Florida. "Ultimately, all medical marijuana patients will need to be under the supervised care of a physician, and our hope is to work with patients as well as other health care providers to ensure not just compliance but partnership," he says.
About the Company
Liberate Medical Marijuana Consulting Services is owned by LiberateWPB, Inc, based in West Palm Beach. LiberateWPB is an independent licensed operating company of Liberate Physician Management, LLC. Additional information is available at: http://www.liberatewpb.com and http://www.liberatephysiciancenters.com.