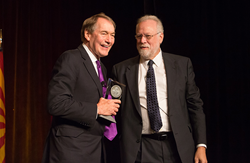 "If you honor me for anything, honor me for my belief in the power of questions, the power of curiosity and – yes – the power of confrontation." -- Charlie Rose
Phoenix, Arizona (PRWEB) October 19, 2015
Charlie Rose, the award-winning anchor of "CBS This Morning" and host of the respected late-night talk show on PBS, emphasized the power of curiosity and confrontation in storytelling as he accepted the 2015 Walter Cronkite Award for Excellence in Journalism Monday from Arizona State University.
ASU Provost Mark Searle presented Rose with the 32nd award, given by the Walter Cronkite School of Journalism and Mass Communication to recognize a distinguished journalist who embodies the values of the school's namesake.
Rose received the award at a luncheon attended by approximately 1,100 students, media leaders, business executives, civic leaders and Cronkite School supporters at the Sheraton Phoenix Downtown Hotel.
During his acceptance, Rose dedicated the award to journalists who risk their lives pursuing stories around the world. His speech emphasized the crucial role that journalism plays in society and highlighted the significance of the journalistic interview.
"My table, whether it's an oak table on 'Charlie Rose,' or a glass table on 'CBS This Morning' or a '60 Minutes' set somewhere, is a symbol for me of the role of conversation today," Rose said. "If you honor me for anything, honor me for my belief in the power of questions, the power of curiosity and – yes – the power of confrontation."
Rose also reminisced about Walter Cronkite and his passion for news, noting how the Cronkite School embodies the journalistic values and spirit of the late newscaster.
During his two-day visit to ASU, Rose taped an episode of his "Charlie Rose" show at the Cronkite School's Arizona PBS studios, interviewing Sen. John McCain on foreign policy as well conducting a roundtable discussion on the future of journalism with Cronkite School Dean Christopher Callahan, Cronkite Innovation Chief Eric Newton and Steve Capus, executive producer of the "CBS Evening News with Scott Pelley."
After the taping, Rose toured the newsroom of Cronkite News, a multiplatform daily news operation at the Cronkite School that produces daily news content on Arizona PBS. Rose also talked with more than 100 students during a discussion led by Ted Simons, host of "Arizona Horizon" on Arizona PBS.
Rose reflected on his 40-plus year career, including his interviews with newsmakers such as late Apple co-founder and CEO Steve Jobs and Russian President Vladimir Putin. Rose told students to "never stop learning" and to be bold in their careers.
"You can't wait for the world to come to you," Rose said. "You have to come to the world and take advantage of it where you can."
Walter Cronkite presented the first award bearing his name in 1984 to CBS executives William Paley and Frank Stanton. Cronkite was a fixture at the luncheons until his death in 2009. Rose joins previous Cronkite Award recipients that include television journalists Tom Brokaw, Diane Sawyer and Bob Schieffer; newspaper journalists Ben Bradlee and Bob Woodward; television executives Frank Stanton and Ted Turner; and newspaper publishers Katharine Graham and Otis Chandler. Last year's winner was ABC newscaster Robin Roberts.
"I cannot think of an honoree who better represents Walter Cronkite's values and passion for journalistic excellence than our 2015 Cronkite Award winner – Charlie Rose," Callahan said.