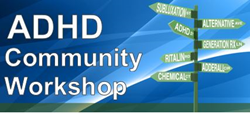 Our children and our society need better options.
Loveland, CO (PRWEB) October 21, 2015
Parents and community members in the Loveland/Fort Collins area will soon have a chance to learn more about ADHD including having questions answered about the safety of current treatment options such as Ritalin and other drugs. The U.S. Drug Enforcement Administration classifies these drugs as Schedule II drugs, the same classification as Cocaine, Methadone, and Methamphetamine. Concerned parents are invited to attend to find out if these options are safe, if they are necessary, and if there are any alternatives.
The CDC estimates that 11% of children have some degree of ADHD. Over half of them are being treated with medication.
The average age of diagnosis is at 7 years old. The Physician Desk Reference (PDR) says of Ritalin: "Ritalin should not be used in children under six years of age because safety and efficacy in this age group have not been established."
Nearly every school shooter since Columbine has been on some kind of psychotropic drug, which have "frank psychotic episodes" as a possible side-effect according to the PDR.
Prescription drug abuse among high school and college age students has risen sharply in the past decade with Ritalin as one of the drugs of choice because it is easy to acquire and it acts as a nervous system stimulant like Speed.
Smithsonian.com noted that two thirds of today's children are unfit for military service because of psychotropic drug use. This is now a national security issue as well.
Our children and our society need better options.
This workshop, "Ritalin, Adderall & Concerta… Are they Safe? Are they Necessary?" will be given at Dazbog Coffee in Loveland, 556 N. Lincoln Ave, on November 4th, 2015 at 9:30 am.
This event is sponsored by The National Wellness Foundation, a non-profit whose mission is to provide education, information, and resources to raise Healthy Kids and Healthy Families.
The event will feature guest speaker Dr. David Kolowski, D.C. from Kolowski Chiropractic and Wellness. Dr. Kolowski has been in active practice since 2010 and focuses on serving families with quality natural healthcare and has had the pleasure of helping hundreds of children with a wide variety of health concerns. More about Dr. Kolowski can be found on his website, http://www.chiroloveland.com.
This event is free to the public and seats can be reserved by calling the National Wellness Foundation at 970-817-8174. Space is limited so please call today.
XXX
David Kolowski, D.C.
Kolowski Chiropractic and Wellness
http://www.chiroloveland.com
970-685-8060
2530 Abarr Drive, #120A
Loveland, CO 80538