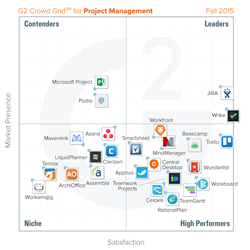 CHICAGO, IL (PRWEB) October 20, 2015
The updated GridSM report for project management, published today by business software review site G2 Crowd, ranks 25 products to help purchasers with their software selections. JIRA and Wrike were named Leaders in the report, receiving strong customer satisfaction scores with a large market presence. Thirteen platforms, including Trello, Workboard, TeamGantt and Basecamp, were named High Performers, earning strong customer satisfaction marks with smaller market presence scores. Overall, Wrike earned the highest overall Satisfaction score while JIRA earned the highest overall Market Presence score.
The Fall 2015 report is based on more than 850 reviews written by business professionals. Of the roughly 175 products listed in G2 Crowd's Project Management Software category, the ranked products each received 10 or more reviews to qualify for inclusion on the GridSM.
The GridSM factors in customer satisfaction reported by users, along with vendor market presence determined from social and public data to rank products. Based on a combination of these scores, each software solution is categorized as a Leader, High Performer, Contender or Niche.
The Fall 2015 report also includes GridsSM representing reviewer company size segments: Small Business (50 or fewer employees), Mid-Market (51 to 1,000 employees) and Enterprise (1,001+ employees). The Leaders and High Performers for each segment are:
GridSM for Project Management Software (Small Business):
● Leaders: Wrike, JIRA, Trello
● High Performers: TeamGantt, Workboard, Basecamp
GridSM for Project Management Software (Mid-Market):
● Leaders: Wrike, JIRA, Clarizen
● High Performers: Trello, Basecamp
GridSM for Project Management Software (Enterprise):
● Leaders: JIRA, Workfront
● High Performers: Wrike
Since the Winter 2015 GridSM report, JIRA moved from the Niche product category to Leader as its satisfaction score increased by 43 points and its market presence increased by 22 points. Additionally, Microsoft Project moved from the Leader product category to Contender as its satisfaction decreased by 22 points.
Key findings revealed that overall users were very satisfied with their project management tool. The average NPS for a project management product was 49 and general satisfaction ratings all averaged in the 85th percentile, with ratings like ease of doing business at a high 89 percent satisfaction average.
While features such as ease of business rated high among users, other features such as project maps, Gantt chards and calendar views were rated lowly at 79 percent satisfaction. Additionally, reporting capabilities averaged a 78 percent satisfaction. Baselining and budgeting were even lower in the 71 percentile.
Products appearing on the GridSM for the first time include Apptivo, Assembla, Celoxius, Central Desktop and LiquidPlanner, MavenLink, RationalPlan, TeamGantt, Teamwork Projects and Workboard.
Some highlights from the project management software reviews on G2 Crowd:
"JIRA has an excellent workflow engine that can be easily configured for any type of needs. [The] Workflow editing tool gives you a possibility to create a complex workflow only with drag-and-drop. On the other side, the workflow can be configured with various complex rules to be applied on status changes or on the external information."

Vasilii T., Software Engineer at PAY.ON
"Clarizen is a robust cloud based project management software for the collaboration age. The flexibility to adapt and mold your instance to suit the individual business needs is extraordinary. Clarizen has provided a more efficient way to manage our projects while reducing key detractors such as meeting times, project lengths, etc.
Of all the tools in the enterprise Clarizen affords any company the needed flexibility to have the software work for you not against you."

Jeff Smargon, Director, Project Manager at Alorica
"Wrike's folder approach allows me to give tasks multiple categories. This means that I can slice my projects any way I like and can see all the relevant tasks. Additionally, the user interface is intuitive and fun - it's helped me to get clients who have resisted project management actually managing their projects for the first time - result!"

Sally R., Strategic Leader at Projects, Processes & People
"Simplicity! Trello is really simple to use, it's intuitive flow makes it easy for anyone to grasp quickly, helping new team members get on board really fast. The way it allows us to collaborate across teams, Dev Team, Analysts and Sales, makes it easy for everyone to be on the same tool."

Ryan H., Director of Operations & Expansion at Brandseye
"Workboard is very intuitive and easy to use. The free version of the software is very robust. I recently upgarded to Workboard Elite and am now using Workboard for 1 on 1s and team meetings. This has transformed these processes and has helped with employee engagement."

Jeremy C., IT Manager at Ohio Gratings, Inc.
Premium research on project management tools can be purchased on the site for $599. This offers the original data for filtering and weighting, as well as individual profiles of each platform with the most helpful positive and negative reviews, detailed company information, user satisfaction ratings, feature scores and customer metrics. Future refreshes of the GridSM will provide updated rankings based on the latest reviews and social data.
Be sure to check out the new GridSM for the project management software products and subscribe to the premium research.
_______________
About G2 Crowd, Inc.
G2 Crowd, the world's leading business software review platform, leverages its 41,000-plus user reviews to drive better purchasing decisions. Technology buyers, investors, and analysts use the site to compare and select the best software based on peer reviews and synthesized social data. Co-founded by the founder and former executives from SaaS leader BigMachines and backed by roughly $12 million in capital, G2 Crowd aims to bring authenticity and transparency to business technology research. For more information, go to G2Crowd.com.