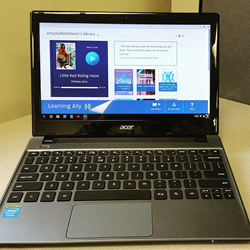 This is making it much easier for teachers to help learners with disabilities receive the same education as their peers.
PRINCETON, NJ (PRWEB) October 20, 2015
Learning Ally, a national nonprofit organization supporting students who read and learn differently due to dyslexia, blindness and other disabilities, has announced that its award winning LINK audiobook learning platform for students with print reading disabilities has been made accessible via Google Chrome and is available to its members in the Chrome Web Store.
Now fully functional on Chromebooks, the LINK platform gives students and their teachers instant access to Learning Ally's 80,000 human-narrated audiobooks, including a panoramic range of core curriculum textbook and literature titles. The educational library is also accessible on devices including PCs and MACs, Apple and Android tablets, and smartphones.
"Chromebooks have become a critical instructional tool in our nation's classrooms," said Andrew Friedman, Learning Ally President and CEO. "We know that more than 70 percent of the estimated 11 million Chromebooks sold in the past year were purchased by schools. Making our content accessible on these omnipresent devices will empower hundreds of thousands of students with disabilities to learn and succeed in a mainstream classroom setting."
"Learning Ally on Chromebooks is just what my district has been waiting for," said Susan Mechler, a teacher and speech language pathologist in the Loveland City School District, Loveland, Ohio. "We're thrilled that our students can select the Learning Ally LINK app from the Chrome Web store and simply 'add to Chrome' their district-issued Chromebooks. This is a great way to put audio-supported reading at students' fingertips and help us engage them as passionate learners."
Deployed on Chromebooks and other devices, LINK gives students the ability to read their books when, where and how they want, enabling them to:
● Play VOICEtext titles from Learning Ally's library, which display text with sentence-level highlighting synchronized with the human narrated audio
● Listen to any of the 80,000 instructional textbooks and literature titles from Learning Ally's library on Chromebooks, PCs or Macs
● Navigate through audiobooks by chapter or page
● Create and edit bookmarks with personal notations to mark important passages
● Adjust the speed of audio playback
● Automatically pick up playback where they last left off
The LINK technology also provides teachers and parents with insights into students' reading progress. The platform is fully integrated with Teacher Ally, Learning Ally's widely used audiobook learning management system for the classroom. Teacher Ally enables teachers to set up profiles and personal bookshelves for each student, track the titles and pages they are reading, and generate reports on their progress to share with parents and teachers. The system has received high praise from educators who incorporated it in their classrooms.
"Through using Learning Ally in our school, we've had lots of successes reflected in students' level of independence and their higher reading level," said Amy Kalinchuk, a special education teacher in the Denver Public Schools system. "It helps students with disabilities participate in the general-ed environment at a higher level than they were previously able to, and it's making it much easier for teachers to help these learners receive the same education as their peers."
About Learning Ally
Founded in 1948, Learning Ally supports K-12, college and graduate students, veterans and lifelong learners – all of whom read and learn differently due to dyslexia, blindness or visual impairment, and other disabilities. Through its extensive community events and support programs, Learning Ally enables parents, teachers and specialists to help students thrive and succeed. The organization hosts live and virtual events for families and teachers; provides instructive webinars led by experts as well as peer-to-peer sessions led by students; personal consultations for parents; and professional development workshops for educators.
Learning Ally's collection of 80,000 human-narrated audio textbooks and literature titles can be downloaded by students using their smartphones and tablets, and is the largest of its kind in the world. As a 501(c)3 nonprofit, Learning Ally is partially funded by grants from state and local education programs, and the generous contributions of individuals, foundations and corporations. For more information, visit http://LearningAlly.org.