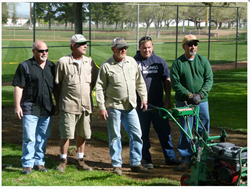 This project is especially meaningful to us because the community need was identified by one of our own employees at our distribution center in Kingman.
Kingman, AZ (PRWEB) October 20, 2015
McKee Foods, on behalf of the Outdoor Happiness Project, is excited to announce that the Outdoor Happiness Pavilion at Centennial Park will be dedicated to the public on Wednesday, October 21, 2015, at 10 a.m. The dedication will take place at Ramada No. 4, located along Beverly Avenue behind Field 1.
Centennial Park is a large recreational space for softball, soccer, basketball, racquetball, tennis, volleyball and more. But with average summer temperatures topping 100 degrees, it can get pretty uncomfortable. McKee Foods has stepped in to provide the park with much-needed shade. Now park-goers can cool off beneath a brand-new Outdoor Happiness pavilion. The Kingman city park maintenance crew completed construction on the pavilion.
"We've been working with people in various communities to identify needs and select where we can be of greatest value," stated Chris McKee, executive vice president of marketing and sales for McKee Foods. "The project at Centennial Park is an example of our commitment to this cause. This project is especially meaningful to us because the community need was identified by one of our own employees at our distribution center in Kingman."
Various local officials will be in attendance, including the Kingman mayor, a city council chairperson and various employees from McKee Foods, as well as the Centennial Park maintenance team.
This is just one of the Outdoor Happiness projects going on around the country. To find out about others, check out OutdoorHappinessMovement.com. Visitors to the site can also make a pledge to go outside, have fun and find what makes them happy. For each person who takes the pledge, McKee Foods will donate additional funds above the $1 million state project commitment.*
About the OUTDOOR HAPPINESS MOVEMENT:
McKee Foods is committed to helping communities across the country enjoy an active outdoor lifestyle by partnering with organizations that make public greenways, trails and parks available. We believe these green spaces provide opportunities for outdoor activity that ultimately lead to a fun and active lifestyle. McKee Foods, owned and operated by the McKee family, has committed to donate more than $1 million over a five-year period in an initiative called the "Outdoor Happiness (OH!) Movement." The OH! Movement represents a long-standing tradition in the McKee family in that since 2009, it has given more than $2.8 million to support the creation and preservation of parks, greenways and other outdoor spaces. For more information, or to join McKee Foods in its mission to get the country outside, please visit OutdoorHappinessMovement.com.
About McKee Foods:
McKee Foods, a family bakery with annual sales of about $1.4 billion, is a privately held company based in Collegedale, Tenn. The McKee Foods story began during the height of the Great Depression when founder O.D. McKee began selling 5-cent snack cakes from the back of his car. Soon after, he and his wife, Ruth, bought a small, failing bakery, using the family car as collateral. Today, the company employs more than 6,000 people in Collegedale; Gentry, Ark.; Stuarts Draft, Va.; and Kingman, Ariz. It creates and produces Little Debbie® Snacks, Drake's® Cakes, Sunbelt Bakery® snacks and cereals, and Heartland® and Fieldstone™ Bakery food products. Visit McKeeFoods.com for more information.
*Up to $25,000