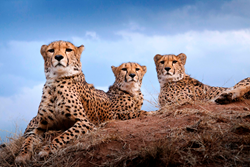 "This is the first time we've done an event like this at The National Zoo. We're hoping to bring more attention to the problems that threaten cheetahs." -Dr. Laurie Marker
Washington, D.C. (PRWEB) October 20, 2015
Leading scientists and conservation experts from around the world will gather to present "The Biology and Conservation of Cheetahs" at The National Zoo Wednesday, Oct. 21, from 6:30 to 9:30 p.m. The speakers will reveal recent scientific findings for the species, including progress on mapping the cheetah genome, and explore critical issues threatening to drive the species to extinction, such as habitat loss and human-wildlife conflict. The speakers will also cover conservation strategies being successfully deployed to increase the cheetah's chances for long-term survival. "The Biology and Conservation of Cheetahs" will be presented in the zoo's Visitor Center Auditorium and is open to the public. There is no charge for admission.
Speaking will be Dr. Laurie Marker, Founder and Executive Director of Cheetah Conservation Fund; Dr. Stephen O'Brien, Chief Scientific Officer for the Theodosius Dobhansky Center for Genome Bioinformatics, St. Petersburg, Russia; Dr. Suzan Murray, Chief Wildlife Veterinarian and Director of the Smithsonian Global Health Program at The National Zoo; Dr. Bruce Brewer, General Manager of Cheetah Conservation Fund; Dr. Adrienne Crosier, Cheetah Manager and Reproductive Physiologist, Smithsonian National Zoo; Dr. Pierre Comizzoli, Research Scientist at Smithsonian National Zoo's Center for Species Survival; Dr. Warren Johnson, Conservation Geneticist and Coordinator at the Smithsonian Institute for Biodiversity Genomics; Dr. Debborah Luke, Senior Vice President, Conservation and Science, for the Association of Zoos and Aquariums; Mary Wykstra, Principal Investigator and Director of Action for Cheetahs – Kenya; Suzi Rapp, Animal Programs Director, and Wouter Stellaard, Animal Programs Training Manger, of the Columbus Zoo.
The seminar is being organized by Dr. Marker, a pioneer in cheetah scientific research and conservation, with a 40-year career that has taken her from a wildlife park in Oregon to the rugged landscapes of sub-Saharan African. Formerly the Executive Director of The National Zoo's Center for New Opportunities in Animal Health Sciences (NOAHS) and still a research collaborator, Dr. Marker returns to Washington, D.C. from her field headquarters in Namibia at least once each year to give public updates on the cheetah, which despite all conservation efforts remains most endangered big cat in Africa.