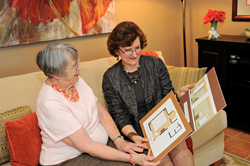 Too many times, we're only worried about how things look when we should also be concerned with how homeowners will function in these spaces as they grow older.
Scottsdale, Arizona (PRWEB) October 20, 2015
Bonnie Lewis, a Scottsdale-based interior designer and owner of 55+ TLC Interior Design, recently was awarded the "Homes for Life" award from the National Association of Home Builders (NAHB) Remodelers for her work in using interior design to adapt current living spaces for the maturing Baby Boomer demographic.
The prestigious national award, which recognizes excellent remodeling work for aging-in-place and universal design, was presented to Lewis during the NAHB Remodelers' annual awards ceremony in Chicago in early October. It was one of five awards Lewis received for her design projects this year.
Lewis, who won in the Single Space remodel category for a north Scottsdale remodel that will allow a retired couple to remain in their home rather than move due to accessibility issues that may arise, says aging-in-place priorities are not being addressed enough by today's interior designers.
"Too many times, we're only worried about how things look when we should also be concerned with how homeowners will function in these spaces as they grow older," Lewis said. "With more than 8,000 Baby Boomers turning 65 each day, the need to provide spaces which function well for this growing demographic will continue to grow in importance. But rather than wait, my company is addressing these needs today."
Lewis, whose credentials include membership in the American Society of Interior Designers (ASID), International Interior Design Associations (IIDA) and National Kitchen and Bath Association (NKBA), considers her Certified Aging in Place Specialist (CAPS) designation to be one of the most important.
"Homeowners need to plan for the future when they remodel or purchase a new home," she said. "Many times, I see people give up their dream homes because of the limitations age can put on their mobility. It's an event that can be prevented if they spend time creating spaces that work well at any age."
Aging in place interior design is a passionate topic for Lewis, who worked to remodel her late father's home to help him extend his longevity. The stigma of assisted living design, she said, is not necessary with today's available resources.
"Many times homeowners are concerned these design adjustments will hurt the resale value of their homes or will make them feel less independent," Lewis said. "The opposite is true, with many people able to live on their own longer and future buyers appreciative of the steps already taken to make the home more accessible – provided the improvements made are stylish and attractive."
Among the items Lewis suggests homeowners consider with their next remodel:

Wider entryways to rooms and bathrooms, allowing for walker or wheelchair accessibility.
Doorways without thresholds.
Designer assist bars in bathrooms, showers, bathtubs and more. New ADA-compliant bars have designer functionality, ensuring a less "institutional" look.
Open floor plans with more light, allowing residents who struggle with low light levels ease of use in their homes.
"The point of these aging-in-place options is to extend the length of time homeowners can live on their own, in the homes they chose when they were younger," Lewis said. "And in the end, who doesn't want to remain independent for as long as they possibly can?"
For more information on living-in-place design options and interior design, please visit http://www.55plusTLC.com.
About 55+ TLC Interior Design
Based in Scottsdale, Arizona and founded by Bonnie J. Lewis, an Allied ASID, Assoc. IIDA, CAPS certified interior designer, 55+ TLC Interior Design is focused on providing living-in-place options for its clients. The company caters to discriminating Baby Boomers and seniors who want a beautiful, specially-designed, individually tailored living environment that makes life easier and sustains independence as long as possible. For more information, please visit http://www.55plusTLC.com.
About NAHB Remodelers
NAHB Remodelers is America's home for professional remodelers, representing more than 55,000 members of the National Association of Home Builders (NAHB), who are involved in the remodeling industry. Founded in 1982, the organization provides information, education and designation programs to improve the business and construction expertise of its members and to enhance the professional image of the industry. Its membership incorporates more than 100 local councils in nearly every state. Learn more about remodeling at http://www.nahb.org/remodel.