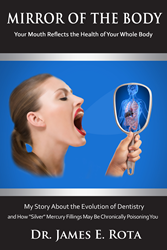 It is most important that dentists learn how to remove mercury fillings safely, using protocols developed by the biological dental organizations.
Los Angeles, CA (PRWEB) October 20, 2015
Los Angeles is bound to go mercury free after the arrival of two independent works making the case to end the madness of mercury in dentistry. "Mirror of the Body: Your Mouth Reflects the Health of Your Whole Body" by Dr. James Rota and a documentary, "Evidence of Harm" will both be released to the public this week. Dr. Rota will be a guest speaker at the October 24 screening in Beverly Hills.
Since the arrival in the U.S. of the "silver" dental filling 182 years ago, Americans have been unwitting victims of a profession that has denied science and ignored the cries of those injured. The mercury filling (similar to what is in use today) was brought to America by some charlatan dentists from England. Dentistry was just starting as a profession. The members of the first dental organization (American Society of Dental Surgeons) took a pledge to never use the mercury filling. In fact, dentists who used mercury fillings were called "quacks."
After the questionable English dentists were run out of the country, many American dentists were drawn to the mercury filling because it was inexpensive and easy to use. Thus began the First Amalgam War, and soon thereafter the American Dental Association took their relentless stand to protect the use of mercury in dentistry. They went so far as to include a gag rule in their "Code of Ethics" to prevent dentists from speaking about the effects of the mercury filling.
In "Mirror of the Body," Dr. Rota not only explains how mercury first came to dentistry, but why it is still being used today and why dentists, in general, do not understand the harmful results of its use. As an Assistant Professor at the newly forming UCLA School of Dentistry in 1963, Dr. Rota taught classes about the dental amalgam. Dr. Rota fully discloses, "I was part of the problem. I taught dental students that when you mix silver, tin, zinc and copper with 50% mercury, you have an inert, stable mass. I taught that because it is what I learned in dental school."
The Third Amalgam War started in 1973, and since then dental organizations have formed to support members who put the environment and the health of their patients, staff and themselves first. These organizations include the International Academy of Oral Medicine & Toxicology (IAOMT), the International Academy of Biological Dentistry & Medicine (IABDM), and the Holistic Dental Association (HDA). The member dentists strive to protect the patient during mercury filling removal and recognize the impact that certain dental materials and procedures can have on the rest of the body.
Mercury dental amalgam awareness websites have also gained significant followings due to injured consumers and dental professionals searching for answers to unresolved physical ailments. Some of the most well-known websites are http://www.Amalgam.org (DAMS – Dental Amalgam Mercury Solutions), http://www.ToxicTeeth.org (Consumers for Dental Choice), and http://www.TALKInternational.com, which launched in 1997, and offers mercury-related news, mercury toxicity information, and a directory of holistic/biological dentists.
However, there is so much more to the story of mercury in dentistry than its history. Because mercury toxicity is difficult to diagnose and largely overlooked by the mainstream medical community, the connection to chronic mercury exposure does not get the consideration it deserves. Patients with digestive issues, chronic fatigue, tremors, or memory loss (and numerous other conditions) don't go to the dentist to address these types of symptoms. Biological dentists often work as a team with physicians who understand heavy metal toxicity to help patients that may be burdened by levels of mercury sufficient to affect their health.
Mercury is a known neurotoxin. Mercury vapors are released from amalgam fillings on a daily basis, which is undisputed. Mercury is placed two inches from the brains of children every single day in America while several other countries have banned the use of mercury fillings.
At the age of 81, Dr. Rota says, "Thirty years ago, when I became a biological dentist, I thought I would see the end of mercury in dentistry in my lifetime. The time has come for the American people to speak out and demand the end to chronic poisoning of children and adults. That is the only way it will happen. Let it be in my lifetime."
Dr. Rota further stated, "It is my hope and intention that the Third Amalgam War will soon be called 'The Final Amalgam War.'"
The release of Dr. Rota's book on Amazon.com, "Mirror of the Body," is joined by a compelling documentary, "Evidence of Harm" in Beverly Hills at the Laemmle Theater – Music Hall, October 23-29. Visit http://www.Evidence-of-Harm.com for more information about the film and featured speakers for Q&A after the screening. Visit http://www.MirrorOfTheBody-Book.com for more information about Dr. Rota and biological dentistry.