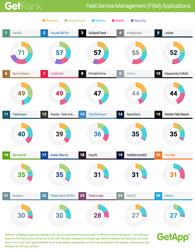 Mobile learning is the L&D [Learning and Development] community's response to business trends.
(PRWEB) October 21, 2015
GetApp, the largest cloud­-based business software discovery site, has released its Q3 GetRank of the t​op 25 learning management solutions, with Talent LMS, Docebo, and Litmos LMS at the top of the list. See our video about GetRank here.
The ranking was calculated using unique data points collected from data available on GetApp and other third­-party sources. These data points include reviews, integrations, mobile app availability, social media presence, and security.
User-generated reviews and integrations are calculated using data listed on GetApp, while security scores come from vendor responses to a security survey based on the Cloud Security Alliance Self-­Assessment Form. Mobile platform data is captured from Google Play and the Apple App Store, while media scores are calculated using the number of Facebook followers and Twitter fans a vendor has.
The goal is to provide valuable data to companies who are looking to make a first assessment when choosing an LMS solution.
When it comes to knowing what to look for in an LMS in 2015, mobile responsive is key.
"Mobile learning is the L&D [Learning and Development] community's response to business trends. Some learning management system vendors have released mobile apps, and other vendors are rapidly developing them. Organizations are converting their Flash-based content to mobile-friendly HTML5. As HTML5 becomes more prevalent, the need to access courses via mobile device will continue to increase," says Katrina Baker, author of LMS Success and one of five expert contributors to GetApp's quarterly report highlighting software trends in the HR industry.
Click through to access t​he Q3 GetRank for LMS software, and download a copy of GetApp's Q3 research report, HR in the Cloud: Key Trends for 2015 on GetApp.
More about GetApp: GetApp, a Gartner company, is the leading premium business app discovery platform on the web. Headquartered in Barcelona (Spain), GetApp serves as a platform for user-generated and editorial reviews of software and apps for businesses.