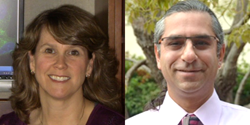 Yorba Linda, CA (PRWEB) October 20, 2015
Tremendous strides have been made recently in automated microscopy and imaging for producing more predictive, physiologically appropriate measurements for drug discovery and environmental toxicity applications.
Researchers have become very interested in using three-dimensional (3D) models–such as cancer spheroids and tissue structures—to augment the predictive ability and relevance of assays. Next-generation high-content, high-throughput tools for microscopy yield groundbreaking and automated techniques for assessing this complex biology.
Molecular Devices is sponsoring a new, free educational webinar, "Multidimensional High-Throughput Imaging with the New ImageXpress® Micro Confocal System," which will discuss how recent advances in confocal high-content imaging technologies will help you address drug screening of 3D cancer spheroids, screening surface binding antibodies in no-wash homogenous assays with high background, and attaining confocal screening results at the speed of a widefield screening system.
This system's innovative optical design provides crisp confocal images whenever your assays demand it. With this new technology, you can use complex cell models (such as spheroids or cells grown in a thick matrix) and generate data that will be more quantitative and statistically relevant than typical widefield experiments.
The speakers will be Jayne Hesley, MS, Applications Scientist, Cellular Imaging, and Grischa Chandy, PhD, Senior Product Manager, Cellular Imaging, both from Molecular Devices.
Jayne Hesley has more than six years' experience developing cell-based applications using ImageXpress hHigh-cContent iImaging sSystems and MetaXpress® analysis software. Her focus lately has been on using stem-cell-derived hepatocytes , cardiomyocytes, and neurons for toxicity studies of cell viability, apoptosis, morphological changes, mitochondrial damage, and autophagy. These studies include live-cell time-lapse experiments and screening assays in 384- or 1,536-well microplates.
Dr. Chandy's scientific background is in cell biology, physiology, and biophysics. He has used and developed imaging techniques and technologies throughout his career, starting with his doctoral work at UC Irvine, his postdoc at UC Berkeley, and in a Research Scientist position at Stanford University. He has been with Molecular Devices for more than 10 years, overseeing introductions of the ImageXpress Micro XL and ImageXpress Micro XLS systems, MetaXpress Software version 3 onward, and most recently, the launch of the ImageXpress Micro Confocal system.
The complementary webinar, hosted by LabRoots, will be presented on October 27, 2015, at 8am PDT/11am EDT/3pm GMT/11pm Beijing.
For full details and free registration, click here.
About Molecular Devices:
Molecular Devices, headquartered in Silicon Valley with offices around the globe, is among the world's leading providers of high-performance bioanalytical measurement solutions for life science research, pharmaceutical, and biotherapeutic development. With more than 130,000 placements in laboratories around the world, the company's instruments have catalyzed brilliant scientific research described in more than 25,000 peer-reviewed publications. Included within a broad product portfolio are platforms for high-throughput screening, genomic and cellular analysis, colony selection, and microplate detection. These leading-edge products empower scientists to improve productivity and effectiveness, ultimately accelerating research and the discovery of new therapeutics.
About LabRoots:
LabRoots is the leading scientific social networking website and producer of educational virtual events and webinars. Contributing to the advancement of science through content sharing capabilities, LabRoots is a powerful advocate in amplifying global networks and communities. Founded in 2008, LabRoots emphasizes digital innovation in scientific collaboration and learning, and is a primary source for current scientific news, webinars, virtual conferences, and more. LabRoots is the owner and producer of BioConference Live – which has grown into the world's largest series of virtual events within the Life Sciences and Clinical Diagnostics community.