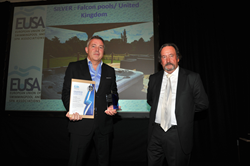 Surrey (PRWEB UK) 21 October 2015
The third European Pool & Spa Awards hosted by the European Union of Swimming Pool and Spa Associations (EUSA) took place at the Piscina & Wellness exhibition in Barcelona, on Wednesday 13th October 2015. The awards have five categories, with fourteen winners announced across the 13 countries that comprise EUSA. Being judged a winner by the leading industry voices, of the Pool & Spa Associations across Europe is high recognition for every award recipient.
EUSA represents over 3,000 swimming pool and spa companies across Europe; needless to say, the competition was of the highest standard. The awards are judged by top industry professionals representing the EUSA members. With such superior standards, understandably tensions were high in anticipation of the results, with the audience cordially acknowledging each of the winners as they were announced, securing their places as the 2015 industry leaders.
Surrey based BISHTA members, Falcon Pools, scooped a silver award in the Domestic Hot Tubs category. EUSA judges were impressed with their winning hot tub installation; This hot tub installation maximises the use of the client's garden through thoughtful positioning and planning. Making the best use of late sun in this part of the garden, incorporating environmentally friendly, anti-slip and low maintenance decking. The hot tub installation and complimentary landscaping has created a beautiful place to relax and unwind.
Earlier this year Falcon Pools won a UK award for the same hot tub in the British Pool & Hot Tubs awards presented by the British and Irish Spa and Hot Tub Association (BISHTA), qualifying the company for entry into the European Pool & Spa Awards.
Ian Storr of Falcon Pools, said: "We are delighted to be recognised at the 2015 EUSA awards. This recognition is a testament to the hard work of all the team at Falcon Pools, taking home an award in the Domestic Hot Tubs category from EUSA is a great acknowledgement for us."
Ian Storr - Falcon Pools Ltd
Address: Bourne Valley Garden Centre
Woodham Park Road
Woodham
Addlestone
Surrey KT15 3TH
Telephone: 01932 353040
Email: enquiries(at)falconpools(dot)co(dot)uk
http://www.falconpools.co.uk/
Founded in 2006, EUSA is registered in Brussels and spearheaded by the current President Philippe BACH. With an objective of, strengthening and coordinating the spirit of European unity among all its members and the voice of craftsmen, the trade, wholesalers and the wet leisure industry across Europe.