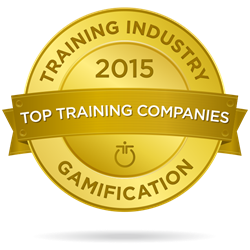 "This year's award is the result of an incredible amount of work by the Enspire team and our wonderful clients," said Enspire CEO Mary Maltbie. "We are grateful, and extremely proud, to be part of this select group of learning industry leaders."
AUSTIN, TX (PRWEB) October 22, 2015
Global learning solutions provider Enspire Learning announced today that it has been named one of the 2015 Top 20 Gamification Companies by Training Industry, Inc.
"Our second annual Top 20 Gamification Companies List showcases the companies who best integrate gaming into learning and development programs," said Ken Taylor, president, Training Industry, Inc.
"The top companies provide some of the most innovative forms of gamification in learning, whether we are discussing serious games, training simulations, or any other form of structured training program."
Selection to this year's Top 20 Gamification Companies List was based on the following criteria:
Features and capabilities of the gamification of products/services
Company size and growth potential
Quality and number of clients/users
Geographic reach
Awards, recognition, and competitive differentiation
"Incorporating gamification into your corporate training remains a strong trend across the industry," said Doug Harward, chief executive officer, Training Industry, Inc. "Those selected are incredibly in tune with their clients' needs and goals, and provide them with solutions that enhance the training experience and the employees' retention of the new skills."
"We are incredibly proud to be honored by Training Industry as a Top 20 Gamification Company for a second year," said Enspire CEO Mary Maltbie. "Everything we do, we do for our wonderful clients, whether that's develop cutting-edge custom learning games or deploy Enspire Challenge leadership development simulations to clients worldwide."
Founded in 2001, Enspire creates learning designed to educate, delight, and change learner behavior through corporate, consumer-facing, and higher-education solutions. Enspire's wholly-owned Houndstooth subsidiary develops world-class media, exhibits, and interactive experiences.