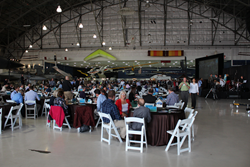 Aurora COLO USA (PRWEB) October 20, 2015
Friday, October 16 Graebel Companies, Inc. was honored as with the Gold Environmental Leader award at the 16th annual Environmental Leadership meeting at the Wings Over the Rockies Air & Space Museum in Denver, Colorado. The Colorado Department of Public Health and Environment, in partnership with the Pollution Prevention Advisory Board and the Colorado Environmental Partnership presented the award based on outstanding environmental achievements that help keep the state of Colorado a desirable place to work and live.
Graebel Companies, a privately-held global relocation and mobility management firm headquartered in Colorado, was among the 12 firms recognized in 2015. 97 Corporations and philanthropic organizations that conduct business in Colorado have been designated Gold Leaders since the program's inception in 1999.
In 2008, Graebel launched a companywide Corporate Social Responsibility (CSR) initiative that is shaped by the United Nations' model to protect people (human capital), planet (natural capital) and profits (economic environment). The organization has successfully engaged in diverse CSR activities in the Americas, APAC and EMEA regions and recognition and achievements are ongoing. Chief Executive Officer, William Graebel SGMS was named one of 12 nationwide finalists for CR Magazine CEO of the Year for his leadership and company's CSR achievements at the Commit|Forum in 2014. Additionally, Graebel International Movers, Inc. world headquarters has been continuously certified for the ISO 14001:2004 Environmental Management System (EMS) since 2007. The 14001 standard embodies this division's commitment to eco-initiatives and new methods of conservation for its global business practices.
A press release detailing the CEO of the year finalist tribute for Mr. Graebel can be found here: http://www.graebel.com/william-graebel-to-speak-at-inaugural-corporate-responsibility-ceo-roundtable-at-commitforum-in-nyc-5/
About The Colorado Environmental Leadership Program (ELP)
The Colorado Environmental Leadership Program (ELP) is a voluntary program recognizing Colorado entities that go beyond compliance with environmental regulations and reach towards the goal of Sustainability. For more information visit: https://www.colorado.gov/pacific/cdphe/environmental-leadership-program
About Graebel Companies, Inc.
Founded in 1950, Graebel Companies is a privately-held global organization that administers the full suite of employee and commercial office relocation, mobility management, workplace and consultative services for the Global 100, Fortune 500 and mid-sized companies. On-the-ground services are managed in 165 countries on six continents. The world headquarters is located in Aurora, Colorado USA with centers throughout the Americas, APAC and EMEA regions. Known for its industry-first innovations, Graebel holds numerous quality and security credentials, and has earned accolades from clients and from within its industry for its best-in-practice performance, market intelligence research and corporate social responsibility initiatives across the globe. To learn more visit: http://www.graebel.com
# # #