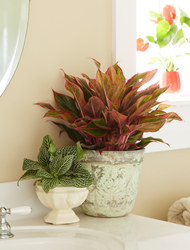 Caring for a houseplant is a cinch. All they need are water – but not too much – a splash of fertilizer in spring and summer and an occasional repotting. They're even easier to care for than a pet.
Miami, FL (PRWEB) October 22, 2015
Living in a small space can feel cold and dull without the right accents and coming up with the right design idea can be tough. There's one simple solution to instantly brighten any apartment or small living space — add a beautiful houseplant.
Red Aglaonemas, snake plants and orchids are easy-to-care for houseplants that add a splash color to any room and are hard to kill. From a classic green variety to an indoor plant that's super exotic, it's simple to find the perfect plant by using the Plant Finder from Costa Farms.
Houseplants are more than just a room accent. Today's energy-efficient homes and buildings trap harmful airborne toxins known as volatile organic compounds (VOCs) inside. Air-purifying houseplants naturally filter these VOCs, making the air cleaner to breathe.
Houseplants also add a touch of nature and numerous benefits to any space, according to Justin Hancock, plant expert at Costa Farms. For example, houseplants help reduce stress and lower blood pressure, transforming an apartment into a personal sanctuary.
Most houseplants are relatively long-lived, making them long-term companions. With regular care, houseplants will grow and thrive.
"Caring for a houseplant is a cinch," says Hancock. "All they need are water – but not too much – a splash of fertilizer in spring and summer and an occasional repotting. They're even easier to care for than a pet."
Hancock recommends these four simple tips to keep houseplants growing and fresh air flowing:
1. Find the right spot. Check the plant tag for information about how much light the plant needs. Houseplants let you know the spot is right by showing healthy leaves. If there's enough light for you to read by, there's probably enough for a low-light houseplant. Avoid placing plants near heat or air conditioning ducts or between the curtains and a chilly window.
2. Don't overwater. Plants only need a refreshing drink of water every now and then. If the soil is dry about an inch below the surface, add water. If the plant does not seem dry, check it again in a few days. But don't overwater: It's the number one reason houseplants die.
3. Keep roots dry. Place containers in a tray or saucer to collect excess water and stop spills — but never allow plants to sit in water.
4. Make sure the temperature just right. Houseplants are happiest in the same temperatures most people are -- between 70 and 80ºF during the day and 10-15 degrees cooler at night.
Find out which houseplants are right for your home at CostaFarms.com, where there are more tips and tricks. Visit Costa Farms' Youtube channel for decorating and easy plant tips, as well.
About Costa Farms: Costa Farms is one of the nation's largest growers of ornamental plants. Founded in 1961 by Jose Costa, Costa Farms is a third-generation, family-owned business that globally stretches over 3,500 acres and employs 4,000 people. Along with thriving indoor and bedding plant divisions, Costa Farms operates merchandising and young-plant production divisions as part of its infrastructure, with operations domestically in South Florida and North and South Carolina, and abroad in the Dominican Republic and Far East.