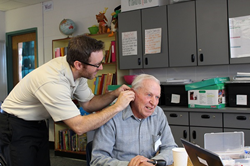 "Every day we witness the frustration caused for both our patients and their families by hearing loss. If left untreated, those issues worsen. -Dr. Meredith Wilken, Director of Professional Development
Arvada, Colorado (PRWEB) October 20, 2015
Hearing Rehab Center (HRC), a 19 year old family owned Colorado business has teamed up with the Colorado Gerentological Society (CGS) to help bring better hearing to Colorado's financially needy seniors. More than $300,000 in free hearing aids and services will be donated to over 100 seniors on October 24, 2015 at the Arvada K-8 school as part of national Make A Difference Day. Make A Difference Day is a national day of service sponsored by USA WEEKEND and Points of Light and is the largest national day of community service. Hearing Rehab Center doctors and staffers are donating their time and talent to spend the day giving back the gift of better hearing. Many of the seniors that will be fit with hearing aids have been waiting for years for hearing help and, for most, this will be their first set of hearing aids. In addition to providing the hearing aids and initial fitting/counseling, HRC will donate free service and follow up for life to these patients.
Untreated hearing loss in our elderly population is a rising epidemic. Recent research suggests 1 in 3 people ages 65-74 and nearly half of those over age 75 experience hearing loss. Since Medicare and many insurance plans do not offer coverage for hearing aids, many seniors are left in a difficult situation. They are aware that they have a hearing problem, but are financially unable to pursue better hearing. Research shows links between untreated hearing loss and dementia, depression, anxiety, and social withdrawal. This can impact their ability to communicate with family, friends, and doctors as well as cause them to avoid social situations.
Dr. Meredith Wilken, an Audiologist with HRC comments, "Every day we witness the frustration caused for both our patients and their families by hearing loss. If left untreated, those issues worsen. Hearing Rehab Center was founded by the Wilken family to help improve lives through better hearing. The ability to hear well is a life changing experience and we are both proud and excited to be able to give this gift to 100 of our local low-income seniors."