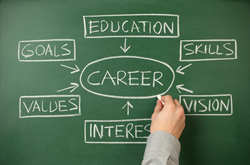 Developing strategic solutions and ensuring that our customers have an exceptional experience with Employment BOOST is integrated daily with our business vision and company values
(PRWEB) October 21, 2015
The quickly approaching holiday season has Employment BOOST professional resume writers and career services experts in the spirit of success! The marketing team of Employment BOOST is diligently working in collaboration with the expert resume writers and executive recruiters to boost connections of their client base. In addition to focusing on strategic solutions and future company developments, Employment BOOST is seeking to learn about their customers through market research and striving to establish more personal relationships.
Employment BOOST takes pride in its positive customer testimonials and customer satisfaction; nevertheless, the company isn't stopping there. As an industry leader in the workplace, career services, and resume writing, Employment BOOST goes beyond career services and professional resume writing. The career experts assist customers in exceeding their personal and professional goals through a positive job outlook, a reliable and proven methodology, and maintaining a trusted relationship with our team. By simply visiting the Employment BOOST website, visitors can begin to visualize a more optimistic future and can reach out to our team in a handful of ways – allowing for one to be one step closer to imminent career success.
"We truly value our customers' business and their opinions which is one more reason why we're pursuing the additional effort in getting acquainted with our client base," said Amera Fattah, Content Manager. "Developing strategic solutions and ensuring that our customers have an exceptional experience with Employment BOOST is integrated daily with our business vision and company values."
The newest marketing campaign features an Employment BOOST Customer Survey offering a $100 Visa Gift Card for a selected winner of all the entries. The survey and additional relevant information is available via the Employment BOOST social media outlets, such as Twitter, Instagram, Facebook, Google+, LinkedIn and Pinterest. The survey asks questions, from customers' age to their company's industry. The questions and answers are exclusive to the web and marketing team of Employment BOOST. Personal information is not shared with the public nor are the customers spammed with information. Interested in participating in the survey and entering to win the $100 Visa gift card? Contact Employment BOOST or visit our website for additional information!
About Employment BOOST:
Employment BOOST is a Troy, Michigan and Chicago, Illinois based company that provides professional resume writing services and critiquing, executive resume services, cover letter development, career planning, social media profile creation, and interview coaching to job seekers across the nation. For more than a decade, Employment BOOST has consistently been helping people achieve career satisfaction. Employment BOOST uses talented industry experts to tailor resumes to the key content that hiring managers seek. For more information on Employment BOOST, please call 888-468-6495 or visit http://employmentboost.com.