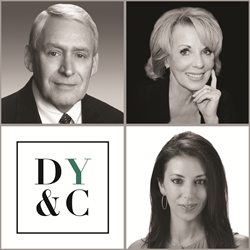 We are ready to invest those corporate franchise fees back into our business, and continue investing in resources and tools that serve our clients and listings
Houston, TX (PRWEB) October 22, 2015
Luxury Realtor, David Young, formally announced today his departure from a longtime corporate franchise as he launches his independent boutique agency: David Young & Company. Young's real estate career spans 25 years with over $1.5 Billion in sales and year after year awards for top production levels. Formerly operating as a team under the corporate brand, David Young will now be the broker of record for a group of 10 entrepreneurial agents. Young's departure from a large franchise model to a boutique agency is an increasingly visible trend in the real estate industry as a large number of agents work to quickly adapt to a shifting market both locally and globally.
Highly regarded throughout the Houston community with a long standing reputation of integrity and success, David Young leads his agents to have an unparalleled mastery of negotiation and to continually innovate, being the first to utilize such technology and resources as an in-house 3-D camera, green room, video production and creative director. He sees technology and the digital experience as integral to success in an International community like Houston.
David's reputation is equaled by his business partner and wife, Carol Peyton Young. Carol is acknowledged by such praise as "Real Estate Royalty", with over 30 years of real estate experience and an award winning background that includes team building, coaching and leadership training for KW International. The newest member to the DY&C leadership team is Los Angeles transplant, Addie Hall, who was recruited to oversee the rebrand, launch, and ultimately manage the operations and new business initiatives for David Young & Company.
Hall was formerly titled Vice President of the luxury real estate brand, The Malibu Life, owned by Bravo's "Million Dollar Listing" star Madison Hildebrand. Hall oversaw a similar transition from corporate to boutique when Hildebrand left a franchise brand 2 years ago for his new independent agency, Partners Trust.
"Over the years, we have strategically built the flexible framework for a company that can react quickly to the needs of our clients. With a collaborative mindset, in-house web and design solutions, and unparalleled technology, we can offer our clients an elevated real estate experience. Although we had been acting independently for years, David Young & Company had reached a point where we outgrew the corporate model and brand, and we knew the timing was perfect to sever ties completely." David Young says. "We are ready to invest those corporate franchise fees back into our business, and continue investing in resources and tools that serve our clients and listings. Through my years of experience and knowledge, Carol's leadership and visionary business ideas, and Addie's innate comprehension of marketing and running a business, we have the proverbial 'Dream Team' in place".
David Young & Company is located in the heart of Houston's Energy Corridor at 14201 Memorial Drive, Houston, TX. Providing top level service, industry knowledge, and elevating the overall experience of buying and selling real estate is their mission and corporate identity.