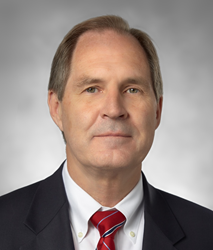 We are pleased to welcome Dennis to our team in the West Division
SAN DIEGO (PRWEB) October 20, 2015
Dennis Henderson joined HNTB Corporation as senior project director of transit planning for the West Division, based in Southern California. He will support projects in Los Angeles and San Diego. He brings more than 35 years of industry experience, including management of light rail transit projects in Houston, Los Angeles and San Diego. In addition to his expertise in transit planning and design, he has managed preparation of environmental impact statements for projects across the country.
At HNTB, he is responsible for developing and supporting the company's growth around the transit planning practice in Southern California, by creating transportation options to the region's multimodal network as highway congestion continues to increase.
"We are pleased to welcome Dennis to our team in the West Division," said Michael Palacios, PE, HNTB Southern California District leader and vice president. "His knowledge and familiarity with the local transportation agencies, the Federal Transit Administration project development process and the National Environmental Policy Act along with other federal regulations for transportation projects will be a valuable asset in the region."
Prior to joining HNTB, Henderson served another consulting firm as project manager for SANDAG's Mid-Coast Transit Corridor, an 11-mile, nine-station extension of the San Diego Trolley system from Santa Fe Depot in Downtown San Diego to the University City community, serving major activity centers such as Old Town, the University of California, San Diego, and Westfield University Towne Center. His work included project management through completion of environmental review and clearance of the project, as well as support to SANDAG with the FTA New Starts process. In addition, Henderson has managed preparation of 17 draft and final environmental documents.
Henderson holds a Master of City Planning from the Georgia Institute of Technology. He is an active member of the American Public Transit Association and a published author in numerous industry publications.
In Southern California, HNTB has been involved in some of the region's most high-profile, complex infrastructure programs that are reshaping the region.
As trusted adviser and provider of innovative rail and transit solutions to the nation's largest transit authorities, HNTB's expertise spans many of the most complex and innovative transit projects in the country. Encompassing every component of rail transportation systems, projects include the Crenshaw/LAX Transit Corridor; San Diego's LOSSAN Corridor; Seattle's Sound Transit Commuter Rail; San Francisco BART Station Airport Extension Line, Track and Systems; and Amtrak Chicago Yard, among others.
About HNTB
HNTB Corporation is an employee-owned infrastructure solutions firm serving public and private owners and contractors. HNTB's work in California dates back to its founding in 1914. Today, HNTB continues to grow in size and service offerings to clients in California from seven office locations, currently employing more than 350 full-time professionals. With more than a century of service, HNTB understands the life cycle of infrastructure and addresses clients' most complex technical, financial and operational challenges. Professionals nationwide deliver a full range of infrastructure-related services, including award-winning planning, design, program management and construction management. For more information, visit http://www.hntb.com.